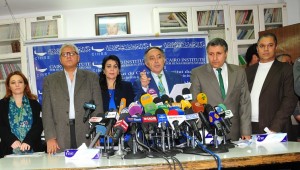 The minister of justice has appointed judges to investigate all reported violations during the first round of the referendum on the constitution.
The assistant justice minister and head of the ministry's referendum monitoring operation room, Hesham Raouf, said in a Tuesday press conference that Minister Ahmed Mekki had delegated several judges to investigate referendum violations.
"This is the first time in the history of elections and referenda that the minister of justice has delegated judges to investigate violations related to criminal offences," said Raouf.
Mekki made the decision after several civil society organisations filed complaints with the public prosecution, said Raouf, who added that these organisations would now have to prove their claims.
Mekki will request the general assemblies of the seven appeals courts to provide judges to oversee the investigations into "criminal violations" and these judges will have complete independence and control over the process.
The Supreme Electoral Commission, however, will handle administrative violations.
The National Salvation Front (NSF), Egypt's largest opposition bloc, provided the secretary general of the commission a report listing alleged violations the front had recorded.
The NSF accused members of the Muslim Brotherhood's Freedom and Justice Party, the Salafi Calling's Al-Nour Party and Al-Wasat Party of impersonating judges.
Raouf denied that anyone other than judges had monitored voting in any polling stations.
NSF member and former Arab League Secretary General Amr Moussa earlier called on Mekki to delegate judges to investigate reported violations.