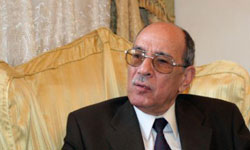 A prominent Egyptian politician expressed satisfaction with the holding of the Saturday referendum on the country's new constitution, and cited the high public turnout as a positive aspect of the voting.
Speaking to FNA in Cairo on Monday, Vice-Chairman of Egypt's Hizb al-Mujtama Party Abdul Ghaffar Shokr said unlike election frauds at the time of Hosni Mubarak, this time people came to vote in a bid to express their viewpoints.
"One of the most important positive aspects of this referendum was the wide-scale participation of the citizens" irrespective of their votes for or against the draft constitution, he said.
Shokr predicted that a majority of the people will give a "yes vote to the draft constitution in the second round of the referendum" due to be held in the remaining provinces next Saturday.
The Egyptian politician called on all political groups and currents to take part in the second round of the referendum
With the first round of voting over, Egypt's ruling Freedom and Justice Party declared Sunday that citizens had given their thumbs-up to the draft constitution.
Tallies say that 57 percent of Egyptian voters said yes to the referendum on the draft constitution.
The vote was held Saturday in 10 of the country's 27 provinces, including Cairo and the Mediterranean port city of Alexandria, Egypt's second largest city.
Voting in the remaining provinces will be held December 22.
The brotherhood had said that some 32 percent of over 26 million Egyptian registered voters participated in Saturday's poll. Egypt's remaining 25 million voters, mostly from conservative rural regions, will cast ballots next week.