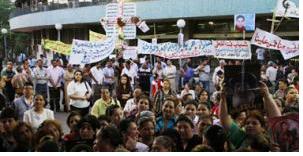 Copts will end their almost two-week protest at the Egyptian State TV building, said Metias Nasr, priest at the Virgin Mary Church in Ezbet al-Nakhl and a leader of the protest.
Nasr called on Coptic youth to respond to his call to stop protesting, but dozens of remained, chanting, "We will stay, we won't go!"
The majority of protesters heeded Nasr's call and the stage set up for speeches was dismantled. Arguments broke out between protesters going and those who insisted on staying.
Filopateer Gamil, pastor at the Mary Hannah Church, told Al-Masry Al-Youm that the decision to end the protest was taken for the sake of Egypt. "The protest had a message, which has been delivered. It was not a tool to pressure the state and twist its arm."
Gamil added that Copts will join Muslims in a planned protest on 27 May, which has been dubbed the "Second Friday of Anger", to push for the fulfillment of the demands of the revolution.
He urged protesters to suspend the protest and open the road to traffic. "We protested for Egypt and now we end our protest also for Egypt."
Copts started an open-ended sit-in on 8 May after two churches were set on fire in the low-income neighborhood of Imbaba, Giza, leaving at least 15 dead and many more injured.
The clashes began after rumors spread that a Coptic woman had converted to Islam and was then held in a church.