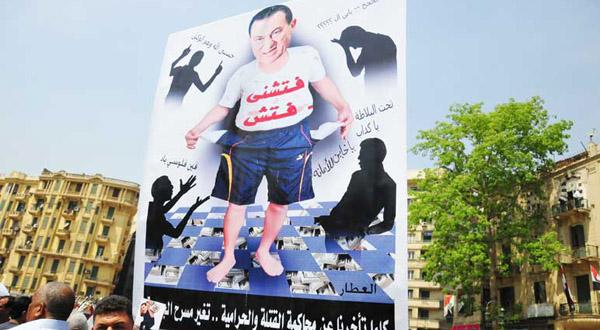 CAIRO: A few thousand protesters in Tahrir Square and in Maspero protested Friday against rumors that the ruling Supreme Council of the Armed Forces (SCAF) may grant amnesty to ousted president Mubarak and his family.
The SCAF had denied in an official communiqué number 54 published on its Facebook page Wednesday, and in state and private TV channels, the allegations that were published Tuesday in Al-Shorouk newspaper, claiming that the council is considering amnesty for the ousted president, stressing that it has no authority over the judiciary.
Unconvinced, protesters in Tahrir called for the resignation of head of the SCAF Field Marshal Hussein Tantawi and Prosecutor General Abdel Meguid Mahmoud, in a protest dubbed the "Friday of Rejecting Apology and Manipulating the Revolution"
"We want the army to go back to its barracks and take all the corrupt officials with them," physician Gamil Ebeid told Daily News Egypt.
"Tantawi was appointed and supported by Mubarak for 20 years," Samir Abdel Monem, 54, told DNE.
"Whose side do you think he's on, ours or Mubarak's?" he questioned.
"Mubarak and his wife are being pampered in Sharm El-Sheikh, while the people's calls go unanswered," he added.
"Investigations with Mubarak and his family should be transparent and their trials should be public," engineer Ahmed Mahmoud said.
"The army is fooling the people," graduate of the faculty of agriculture Rania Mahmoud said.
"I don't want to wake up one day to find Mubarak and his wife released and free while other people are found guilty demanding their rights," she added.
"We accept no apology," bank employee Essam Sultan told DNE. "The rights of the martyrs won't be ignored, our children didn't die for nothing."
"Mubarak is an Egyptian citizen like any other and we are a state that respects the law," lawyer Ahmed Abdel Salam said.
Ibrahim Hosny, 49, who was in Tahrir with his family said "a murderer and a thief doesn't deserve amnesty."
"Mubarak and his family are now crying like women for being investigated, although they didn't protect the country like men when they had the chance," he added.
Some banners of late Egyptian president Gamal Abdel Nasser were seen in the square. They referred to him as "the symbol of dignity."
A 57-year-old protester said "Nasser gave us back our dignity and status in the Arab world and taught us to raise our heads up high."
Meanwhile, hundreds of Coptic protesters gathered in front of the state TV building on Friday demanding the resignation of Tantawi and the release of eight Copts detained on Thursday.
Bishop Filopateer Gamil of the Giza Archbishopric said that eight Copts and three Muslims were detained at the Virgin and Bishop Abram Church in Ain Shams on Thursday.
An official in the army's morale affairs department told DNE that an unconfirmed number of people were detained near the church because they were carrying weapons.
Gamil and the Coptic Maspero Youth Union, however, denied that the detainees carried weapons.
Gamil said that there were no charges filed against them, adding that he had been at the military prosecution trying to have them released.
Bishop Mitias Nasr told protesters on Thursday that according to the priests at the church, police forces attempting to re-open the Ain Shams church in the afternoon, were impeded by Salafis, ultra-conservative Muslims.
Security officials told AFP several hundred Muslims and Coptic Christians pelted each other with stones after hardline Islamists showed up at the church to object to its reopening.
Military police moved in and restored calm, the officials had said on condition of anonymity.
The Coptic Maspero protesters said that they will not leave until their fellow Copts are released and the church is reopened and protected.