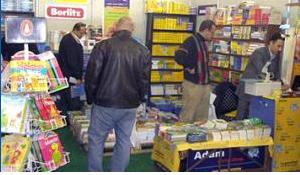 The Italian participation in the Cairo International Book Fair this year is strong, aiming to interest as many visitors as possible to the 42nd session of the popular event.
In addition to the participation of 55 publishing houses exhibiting more than 800 books, about 25 public and private Italian organisations are represented at the Fair.
"This year's participation highlights the centuries-old relations between Italy and Egypt," said Italian Ambassador to Egypt Claudio Pacifico, while inaugurating the Italian pavilion in the Book Fair on Friday.
The Italian pavilion opened in the presence of many teachers and students of the Italian language in Egypt, in addition to prominent Italian thinkers and journalists, who are taking part in the seminars being held on the sidelines of the Fair.
The Italian pavilion is divided into seven stands representing Italian cultural institutions and Italy's Ministry of Culture and Heritage. It also features an exhibition commemorating the Italian participation in digging the Suez Canal.
Old manuscripts, books and newspaper issues are being exhibited that describe the strong presence of the Italians in the Egyptian community in 19th and 20th centuries.
Among the topics being discussed by the Italian side in the seminars is 'The Italians in Egypt and the Egyptians in Italy'.
On Saturday, a conference was held on the International Forum of Euro-Arab Publishing Houses, while on Monday a conference entitled 'Francophony in the Arab World' will be held at 12pm and the role of cultural centres will be discussed in another conference on Tuesday, also at 12pm.
Women's creative experiments will be highlighted in the Women's Cultural Café on Thursday at the same time, while another conference discussing the dialogue among cultures will be held at 3pm.
On Friday, two seminars will cast light on Egyptian-Italian co-operation in the field of science and technology. The concept of preventive medicine in the Orient and Occident is the topic of next Saturday's conference that begins at 12pm.