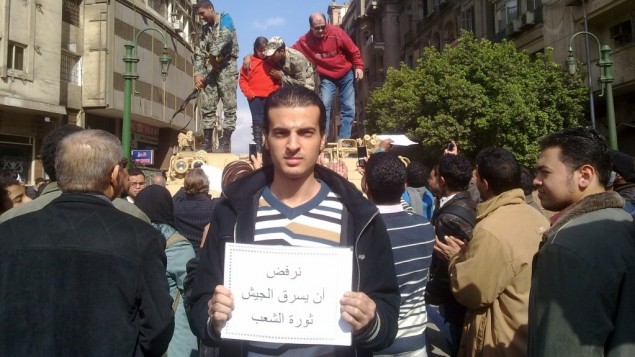 Human rights activist Maikel Nabil was the first political prisoner in post-revolution Egypt. This Sunday, the pro-Israeli dissident made his first public appearance In Jerusalem, calling for Arab-Israeli reconciliation and trying to draw attention to Arab peace activists across the region.

Nabil, hailed by some as "the Hero of Tahrir," said he respects the Likud for being the party that made peace with Egypt in 1979, but lambasted the current government as "racist" and called on Israelis to replace it in the upcoming elections. That did not prevent a number of pro-Palestinian students from heckling him during his Jerusalem address, shouting, "The Egyptian revolution hates you!"

"I'm here to say we, the peace community and peace activists in Egypt, exist; even if the media or some regimes are trying to pretend that we don't exist," Nabil, 27, said. "I represent an Egyptian peace movement. I've been active in favor of peace and demilitarization in Egypt for four years now . We are acting against war and for peace, and vocally speak out for peace with all countries, including Israel."

The Egyptian peace movement believes that there can be no real democracy without peace with Israel, and vice versa.

"Our fates are linked together," said Nabil. "And as long as dictatorship and authoritarian governments take our freedoms and our rights for the sake of security, we will be losing our rights, we will be moving backwards. And we need to solve the peace issue in order for my people and Arab-speaking countries to become democracies, and for Israel to be able to co-exist in peace in the Middle East."

An avid blogger, who also writes for The Times of Israel, Nabil became known in Egypt in 2009 as the country's first conscientious objector, when he founded a movement against military conscription. In 2011, he actively participated in the protests on Tahrir Square, during which he was arrested several times. Nabil continued speaking out against the regime even after then-president Hosni Mubarak was ousted, and was arrested again. He was sentenced to a three-year prison term for insulting the Supreme Council of the Armed Forces, which took power after Mubarak was deposed and before current leader Mohammed Morsi came to power. After 302 days in prison, during which he says he was tortured and sexually abused, he started a hunger strike, which lasted for 130 days. Several human rights organization declared him a prisoner of conscience, and thanks to international pressure Cairo's military rulers pardoned him in January 2012.

"Maikel is a hero. He sacrificed his freedom and almost his life for the cause of human rights and for the cause of peace and in the Middle East, between Egypt and Israel, between Arab and Israelis, and for peace worldwide," said Hillel Neuer, the head of UN Watch, the Geneva-based pro-Israel NGO that sponsored Nabil's trip to Israel.

Nabil, who currently lives in Erfurt, Germany, where he is completing his master's degree in public policy, is extremely critical of the current government in Cairo led by the Muslim Brotherhood's Morsi. Though on the same day he spoke in Jerusalem, nearly two thirds of Egyptians accepted an Islamist-backed constitution rejected by secular activists, he asserted that the majority of his compatriots reject religious fundamentalism. Morsi would soon fall and a democratic regime would rise instead, he predicted confidently.

"The Egyptian dictatorship's propaganda is trying to hide our existence and to [portray] the Egyptian people as anti-Israel," he said about the pro-peace camp. He asserted that a similar phenomenon exists in Israel regarding local peace activists.