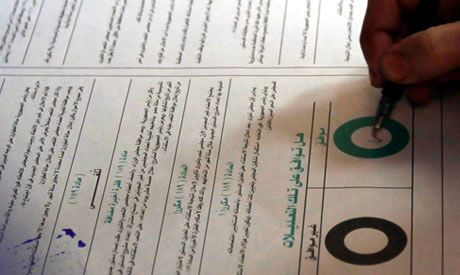 The Cairo Administrative Court on Thursday is set to look into a complaint that calls for the cancellation of the second phase of the referendum on the constitution slated for Saturday, in addition to the annulment of the result of the first phase, which took place 15 December.
The complaint is in objection to the holding of the referendum on two separate phases, a week apart, which allegedly violates set stipulations on the referendum.
The complaint, filed by lawyers Youssef El-Badri and Sabry Otham, was referred from Kafr El-Sheikh Administrative Court to the Cairo Administrative Court.
The complaint notes that the referendum process contravenes Article 60 of the 19 March Constitutional Referendum that delineated the interim transitional period, noting that the referendum should take place on one day, not in two phases.
Additionally, the complaint notes that a constitutional declaration would have had to be issued before the start of the referendum to allow for it to take place in two phases.
The controversial referendum that kicked off 15 December saw voters from 10 Egyptian governorates, including Cairo and Alexandria, vote 'Yes' by 56.5 per cent, according to preliminary results. Turnout did not exceed 33 per cent of eligible voters.
The second phase is set to take place Saturday, 22 December.