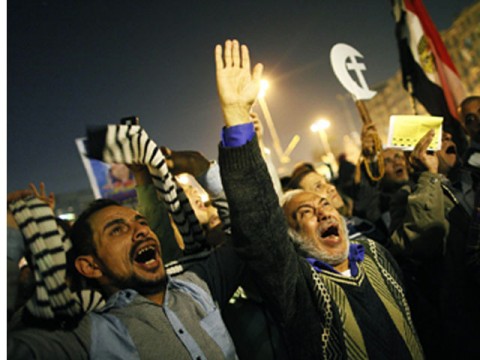 Egypt's opposition mustered only a low turnout for protests late Tuesday against a draft constitution backed by Islamist President Mohamed Mursi that looks likely to be adopted in a weekend referendum second round. But analysts cautioned that adoption of the proposed charter would not heal the deep divisions gripping the Arab world's most populous country. Up to 2,000 people rallied outside the presidential palace and a few hundred more in Cairo's Tahrir Square, AFP correspondents said.
That was far fewer than joined previous anti-Mursi protests over the past three weeks, some of which drew tens of thousands of demonstrators. The demonstrations came ahead of Saturday's second round of voting in the referendum. In last weekend's first round, held in half the country's provinces, including the big cities of Cairo and Alexandria, 57 percent of voters backed the draft charter, according to unofficial tallies. While that was less than Mursi's Muslim Brotherhood had been hoping for, the margin was expected to grow when more conservative, rural voters cast their ballots in the second round.
Some protesters on Tuesday said they would not accept the results of the referendum even if official results showed a majority backed the charter.