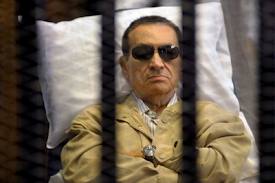 Egypt's ousted president Hosni Mubarak was transferred to a Cairo military hospital, after slipping and injuring his head and chest in prison, a security official said.
For months, there have been conflicting reports about the health of the 84-year old Mubarak, who was sentenced in June to life in prison for failing to stop the killing of hundreds of protesters during last year's uprising. He is the first Arab president to serve a prison sentence.
Gen Mohammed Ibrahim, the deputy interior minister, said on Wednesday that Mubarak will be returned to prison after he has had an X-ray of his head.
Mubarak fell in the prison bathroom on Saturday. The hospital is located in a Cairo suburb of Maadi. Mubarak's family and lawyer appealed to authorities to keep him in the hospital, citing prison poor facilities.
While he was in power, Mubarak's health was treated almost as a state secret. Since his ouster, Mubarak's supporters have released details of his failing health in what critics say is an attempt to gain sympathy from the public and appeal for leniency from the courts.
Less than three weeks after he was convicted and sent to Cairo's Tora prison, Mubarak was abruptly transferred to a military hospital after reports that his heart had stopped beating. The state news agency said at the time that Mubarak had suffered a stroke. He was returned to prison a month later.
On Wednesday, rumors about Mubarak's death were circulating on social networking sites after one newspaper website reported it. Ibrahim denied the rumors.