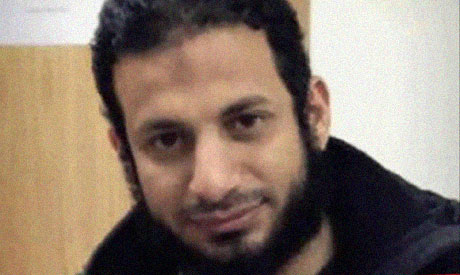 Two members of the 'Hazemoun' movement – supporters of Salafist leader Hazem Abu-Ismail – were detained by police on Tuesday in the wake of Saturday's attack on the liberal Wafd Party headquarters, according Ahmed Samir, a leading member of the movement.
Samir told Al-Ahram's Arabic website that the arrest of Ahmed Arafa and Sherif El-Hosari had almost led to a rash reaction by the movement. However, Abu-Ismail, a disqualified presidential candidate, gave his followers orders not to respond to the arrests.
News of Ahmed Arafa's arrest circulated around social networking sites on Wednesday, claiming he had been "kidnapped" by plainclothes policemen late on Tuesday.
A video posted on a Facebook page used by Abu-Ismail supporters showed Arafa's mother saying that around six people broke into her house at 2am, searched Arafa's bedroom and took him. The video also shows Arafa's ransacked bedroom.
Renowned human rights activist Mona Seif said via Twitter that Arafa was at Cairo's Heliopolis Court accompanied by his lawyer on Wednesday afternoon.
Samir said other groups, such as the Egyptian Popular Current, April 6 and remnants of the Mubarak regime carry out acts of violence that are then falsely attributed to Hazemoun.
Abu-Ismail vehemently denied that his supporters were behind Saturday's attacks on the headquarters on the Wafd Party and the Egyptian Popular Current. The managing editor of the Al-Wafd news website held Hazemoun responsible for the attack, but Abu-Ismail shrugged off the accusation.
The Egyptian Popular Current issued a statement condemning Arafa's arrest and the raid on his house.
"In spite of our clear political differences, we reject any raids or arrests carried out in that way. Our principles are different, but we demand a country based on law," read the statement.
Meanwhile, human rights lawyers Gamal Eid took a swipe at the police via Twitter.
"It would have been better if the president [Mohamed Morsi] had started by reforming the Ministry of Interior, so it wouldn't go back to its criminal methods [which we reject] against Ahmed Arafa or anyone else," said Eid.
The Islamic Renaissance and Reform Movement condemned Arafa's arrest as the return of the "visitors of dawn," a title frequently given to Mubarak-era state security forces known for arbitrarily arresting activists in the middle of the night.
"It is not about Ahmed Arafa or the Hazemoun, it is about state security functioning like the old days," said activist Nawara Negm via Twitter.
A statement issued by the interior ministry on its official Facebook said Arafa had been arrested for the illegal possession of an automatic weapon.
His arrest, according to the statement, was legal and warranted by the prosecution, and was part of a crackdown on illegal possession of firearms.
Information about the second member of Hazemoun to be arrested, Sherif El-Hosari, has not yet been released.