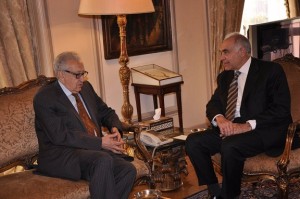 UN-Arab League peace envoy Lakhdar Brahimi visited Cairo on Tuesday for meetings on the Syrian crisis after President Mohamed Morsy discussed plans for establishing a headquarters for the Syrian opposition coalition in Egypt.
Brahimi, the joint special representative of the Arab League and the United Nations, met Secretary General of the Arab League Nabil El-Araby and Minister of Foreign Affairs Mohamed Amr.
A statement released by the Arab League said Brahimi and El-Araby talked about the ongoing efforts to resolve the crisis in Syria "in light of the consultations and contacts made by Brahimi with various sides of the crisis." The pair also discussed the outcome of Brahimi's meetings with the officials from Russia, the United States and foreign ministers from the European Union.
Brahimi refused to give any comment to the media after his meeting with Amr, state-owned news agency MENA reported. A statement issued by the Ministry of Foreign Affairs said the meeting between the two occurred "within the framework of the efforts and contacts made by Amr… on the situation in Syria." Amr and Brahimi discussed the latest developments in Syria and "request redoubled efforts to support humanitarian relief for the Syrian people."
Brahimi's visit comes the day after a meeting between Amr and President Mohamed Morsy. According to presidential spokesperson Yasser Ali, during their meeting the pair discussed the outcome of Amr's visit to Morocco to take part in the friends of Syria conference.
Ali reported that Morsy and Amr discussed plans for Egypt to host the headquarters of the Syrian opposition coalition.
Ali said, "the president talked about the need for all the international parties to push to stop the bloodshed and end the conflict in Syria and affirmed Egypt's keenness on the unity of the Syrian territory."