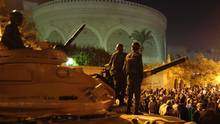 Suppose they called for a protest and nobody came.
It wasn't exactly nobody, but only a few hundred protesters turned up Tuesday evening for a heavily-promoted rally against Egyptian President Mohammed Morsi and the proposed constitution drafted largely by his Muslim Brotherhood backers.
It was a paltry showing compared to recent protests of tens and hundreds of thousands that had led to clashes in the streets with Brotherhood thugs, sent in to counter the rallies.
"I'm extremely disappointed in how few people came out," said Walid Hamada, 33, as he looked around at the small gathering outside the heavily-armed gates of the Presidential Palace in the Heliopolis, a fashionable neighbourhood about 10 kilometres from the centre of town.
"I can't explain it. Don't people know how important this constitution is?" he asked.
Mr. Hamada, the owner of a medical supply company, grew up in the United States, to which his family had moved in the 1980s. He came back to his Egyptian roots three years ago because he sensed a business opportunity in the liberalized economy fostered by Hosni Mubarak and his son Gamal, who had been expected to succeed his father. Both men now are in prison in Cairo.
Mr. Hamada was greeted not long after he arrived in Egypt by the Arab uprising that brought down the Mubaraks and ushered in a new democratic era.
"It was really exciting," he said. "I couldn't have timed things better."
The push for free elections and the drafting of a constitution, reminded him of all that he had learned in school about the early Americans' efforts in the 18th century to free themselves of the British and draft a constitution.
The constitution that Egyptians are voting on was hastily drafted by Islamist representatives in a constituent assembly after the minority secular and Christian representatives walked out complaining the nature of the body was unfairly skewed toward the more religious Brotherhood and extremely religious Salafist delegates.
"The constitution is supposed to be a guarantee of equal rights for all of Egypt's citizens, not just observant Muslims," said Mr. Hamada, a mostly secular Muslim. "This document is no such guarantee."
Two weeks ago, the lanky American/Egyptian in a black bomber jacket and grey touque was among the hundreds of people injured when the Muslim Brothers confronted the anti-Morsi protesters in this same street.
"Three of them attacked my friend and me, and were beating and kicking us," he said. "A policeman just stood there watching."
"If it hadn't been for another friend who ran and got an undercover cop to come and stop them, I wouldn't be talking to you today."
Eight people were killed in the clashes that night.
"I wouldn't have minded the beating so much, if it had got a lot more people to come and protest," he added, "but this turnout tonight makes me feel very disillusioned."
"We're not fighters," explained Sharif Abdel Wahab, 30, also protesting with his fiancé, Tuesday evening outside the Palace. "The Brotherhood is different," he said. "They're tough and used to this."
"Our friends don't want to come out to these protests," said Nermin Wagdy, Mr. Abdel Wahab's fiance. "They're afraid there'll be violence."
Indeed, the rallies against President Morsi, and especially against the constitution being put to a vote, are comprised of mostly middle class, affluent Egyptians. They don't fight with their fists, and certainly not with clubs.
They prefer to listen to speeches and cast votes.
Which is part of the reason why opposition organizers changed tactics last week and called for their people to vote in the referendum on the new charter. Until then, the goal had been to halt the referendum even taking place.
And some 3.5 million Egyptians did vote against the proposed constitution, about 43 per cent of the people who cast ballots in Saturday's first half of the referendum. The other half of the country votes this coming Saturday.
If the vote against the new charter is greater than 40 per cent, the opposition can claim a moral victory and continue to demand a new draft, arguing a great division in the land at a time when Egyptians should be coming together.
The President and his Islamist supporters argue that if the people would only pass this constitution and let the country return to normal, then everyone can sit down and discuss amendments to the charter.
Perhaps fearing such an approach would never undo the document, the opposition National Salvation Front called once again for the people to take to the streets. To little avail.
"This constitution has to be stopped," said a worried Mr. Hamada, "or Egypt will be changed for the worse, maybe forever."