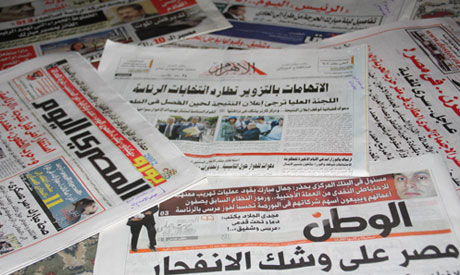 The United Arab Emirates (UAE) has rebuffed claims carried by Egyptian media that it was behind a plot against the Egypt's leadership, saying they were "fabricated", state news agency WAM reported.
UAE Foreign Minister Sheikh Abdullah bin Zayed al-Nahayan has summoned Egypt's ambassador to discuss the claims aimed "to damage the interests of the two countries and their historic and special relationship", WAM said late on Monday.
Sheikh Abdullah called on the Egyptian government "to follow up on these unfounded and slanderous fabrications", WAM said.
It did not directly quote the comments which gave offence.
Egyptian official sources, who declined to be named because of the political sensitivity of the matter, said the UAE was responding to accusations by Mohammed Yaqout that the Gulf state was involved in a plot to kidnap Egyptian President Mohamed Mursi.
Yaqout is a former member of Egypt's Muslim Brotherhood, according to independent newspaper al-Masry al-Youm.
The UAE has arrested about 60 local Islamists this year, accusing them of having ties to the Muslim Brotherhood - which is banned in the country - and conspiring to overthrow the government.
Thanks to cradle-to-grave welfare systems, the UAE and other Gulf Arab monarchies have largely avoided the Arab Spring unrest which unseated rulers elsewhere.
But they fear that the rise of the Brotherhood in Egypt, and of other Islamist groups elsewhere, could increase dissent on their own turf.
A Muslim Brotherhood official in Cairo, contacted by Reuters, said the Brotherhood had not accused the UAE of a plot and that he did not know Yagout.
The organization, which rose to power in Egypt after the overthrow of Hosni Mubarak last year, has consistently sought to reassure Gulf Arab states it has no plan to push for political change beyond Egypt's borders.
Mursi, propelled to power by the Brotherhood, has said there is no plan to "export the revolution". His comments were welcomed by the UAE.
But relations between the two countries have undergone some rough patches since the toppling of Mubarak, a longtime Gulf ally. In June, Egypt's Foreign Ministry summoned the UAE ambassador over comments made on the social media site Twitter by Dubai's chief of police that the ministry described as being against Egypt's interests.