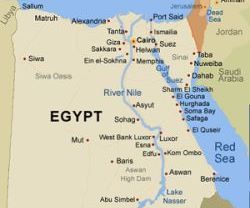 A Cairo court sentenced a Coptic Christian to three years in prison Wednesday for posting portions of an American-made film about Islam that was blamed for widespread unrest in the Middle East.
The court convicted Albert Saber, 27, of "denigrating religions".
Saber was arrested in September after complaints that he posted parts of "Innocence of Muslims" — an amateur video depicting the Prophet Mohammed as a moral deviant — to the Internet.
During his trial, Saber denied the charges, which had included blasphemy and incitement to sedition.
Last month, a U.S. court sent the film's producer, an Egyptian-born Copt named Mark Basseley Youssef, to prison for a minor probation violation in an unrelated case involving a 2010 bank fraud conviction.
According to court papers, Youssef wrote and produced the film's trailer, loading the English-language version onto YouTube July 2; it was then dubbed into Arabic two months later.