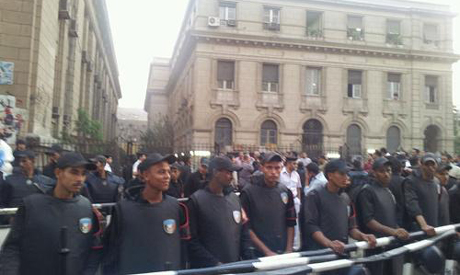 Security forces have surrounded the prosecutor-general's office in downtown Cairo, pre-empting clashes outside the building, after judges and prosecution personnel staged a protest on Monday afternoon.
Representatives from the protesters, who are calling for the recently appointed prosecutor-general judge Talaat Abdullah to step down, met with Abdullah's deputy Adel El-Said. However they failed to reach a conclusion.
Accordingly, a group of them attempted to enter the prosecutor-general's office to demand a meeting but security forces banned them from doing so.
Judges and prosecution personnel had marched from the Judges Club building to the prosecutor-general's office in protest of President Mohamed Morsi's decision to replace Mubarak-era prosecutor-general Abdel-Meguid Mahmoud with Abdullah.
The appointment was announced after Morsi issued his controversial Constitutional Declaration, which made the president's decisions impervious to judicial challenge in November.
In December, Mahmoud, who had been Egypt's prosecutor-general since 2006, was assigned as head of Egypt's Court of Appeal upon his request.
Morsi had previously attempted to dismiss Mahmoud and appoint him as the Egyptian ambassador to the Vatican in October. The latter challenged the president's decision saying it was illegal and so was able to temporarily keep his position.