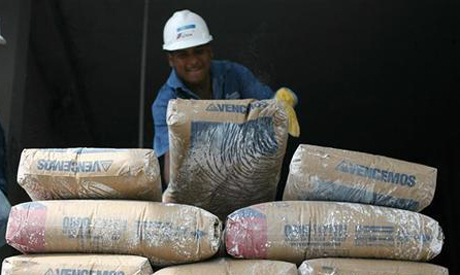 The Egyptian government has issued a decision to raise fuel prices for cement companies that use Mazut for production by 130 per cent, meaning per-tonne mazut prices will rise from LE1000 (roughly $162) to LE2300 (roughly $373), Al-Ahram's Arabic-language news website reported on Thursday.
Mazut, the raw material from which diesel fuel is derived, will be sold at the new price to all of Egypt's industrial sectors, with the exception of electricity production companies and food industries and bakeries, due to high domestic demand for their respective products.
The new prices will go into effect next Saturday.
In August, the government declared that it would not be responsible for providing subsidised energy to 14 new cement factories.
In a speedy reaction to the new government decision, the Suez Cement Company – one of Egypt's largest cement producers – stated on Thursday that the price hikes would force it to shut two of its factories that depend on the alternative fuel.
The company added that around 2000 workers would be laid off as a result, stressing that the government had issued its decision without first discussing the move with industry leaders.
Suez Cement boasts five production facilities nationwide: in Suez, Qattamiya, Tora, Helwan and Minya. The company produces around 12 million metric tonnes of clinker per year, representing some 20 per cent of total domestic production.
In September, Suez Cement announced its financial results for the first half of the current fiscal year, recording net profits of LE266.4 million (roughly $43.1 million) compared to LE412.4 million (some $68.8 million) realised in the same period last year.