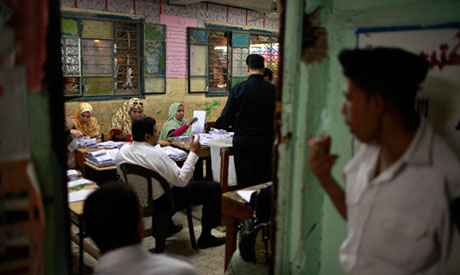 An interior ministry official announced on Thursday that the ministry had taken all necessary measures to secure the referendum set to take place Saturday.
Ministry official Osama Ismail stated that the police forces' role would be limited to securing voting stations and providing a safe environment for voters. He stressed that no police presence would be seen inside any of the stations, unless specifically requested by judges supervising the process.
The first phase of voting is expected to take place in Cairo, Alexandria, Daqahliya, Gharbiya, Sharqiya, Assuit, Sohag, Aswan, North Sinai and South Sinai. The second stage to take place on 22 November will be held in Giza, Qalioubiya, Menoufiya, Beheira, Kafr El-Sheikh, Damietta, Ismailia, Port Said, Suez, Marsa Matrouh, the Red Sea, New Valley, Beni Suef, Fayoum, Minya, Luxor and Qena.
On Thursday, the military reaffirmed that it would have 'temporary arrest powers' at the request of Egypt's Supreme Electoral Commission. This would be granted only during the referendum period, official army spokesperson Ahmed Mohamed Ali stated. He went on to assert that this power would end with the completion of the referendum, stressing that the armed forces had to interest in prolonging it.
On Sunday, Egyptian President Mohamed Morsi – who holds legislative powers because Egypt's elected parliament was dissolved this summer on court order – issued a law granting army officers the authority to make arrests. The legislation was published in Egypt's official state gazette.
Law 107 of 2012 gives army officers the authority to make arrests from the day of issuance until the results of the constitutional poll are made public. The law gives army officers the right to arrest civilians with a view to "maintaining public order."
On Tuesday, however, the presidency confirmed that civilians arrested by military personnel before and during Saturday's constitutional referendum would be referred to civil – rather than military – courts.
The announcement was made after rights activists criticised the decision to grant the military the authority to arrest civilians during the upcoming polls.