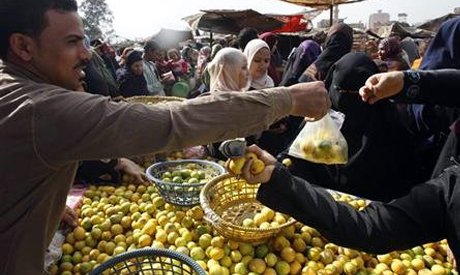 Egypt President Mohamed Morsi has retracted his Sunday decisions to increase tax burdens on the Egyptian people, and ordered the government to carry out a "social dialogue" on the measures before implementation.
In a statement issued on his official Facebook page at around 2 am on Monday, Morsi said he had put on hold the measures of raising sales taxes on a wide range of consumer goods and services that were made public Sunday afternoon.
"[The President] does not accept that the Egyptian citizen carries any extra burdens without consent. His Excellency has decided to halt the [tax raising] decisions until the degree of public acceptance is made clear," the statement read.
The measures represent the implementation of an economic programme that Egypt has proposed to the International Monetary Fund (IMF) in order to be eligible for a $4.8 billion loan. They are aimed at reducing public deficit through increasing state revenue.
Morsi has already reduced subsidies on butane gas and electricity as part of a government austerity programme.
Among other products, sales taxes were increased on steel, cement, soft drinks, beer and cigarettes as well as a variety of services, including mobile-phone services, air-conditioned transportation, and cleaning and security services.
Egypt has already secured a preliminary (staff-level) approval for the loan and the IMF board of directors is expected to approve the facility on 19 December.
The timing of the measures, less than a week before the 15 December scheduled referendum on the draft constitution, was seen as inappropriate by many observers given that the new taxes were expected to incur public anger.
For its part, the Muslim Brotherhood's Freedom and Justice Party (FJP), from which Morsi hails, issued a statement Sunday evening denouncing the President's decisions and demanding they be put on hold.
"[The party] calls on the head of the government [Prime Minister Hisham Qandil] to halt these decisions until they are submitted to the People's Assembly after its formation," the FJP said in a statement.