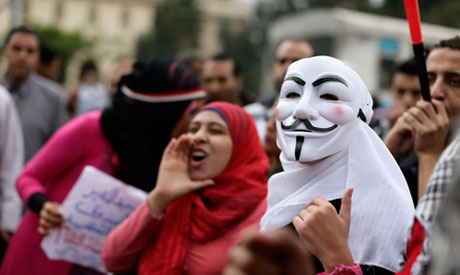 "Of course I have no intention of leaving. I will keep coming even if I come all by myself. I still insist that the draft constitution cannot be offered up for referendum as is," said Ghada, a 37-year-old attorney.
Ghada spoke to Ahram Online as she was finding her way to the presidential palace Sunday evening, less than 24 hours after President Mohamed Morsi offered to limit the prerogative he had bestowed upon himself on 22 November through a constitutional declaration that prompted a nationwide outcry against the text's dictatorial spirit.
Morsi, to Ghada's dismay and that of a co-ed group of 20 – 40-somethings walking together through the Heliopolis suburb towards the presidential palace, failed to bow to the demand of the opposition – which is wide enough to include not just all segments of the non-Islamist political stream but also an impressive portion of the Islamist trend – to delay the 15-December scheduled date for a referendum over a controversial draft constitution that was finalised by a contentious committee that had gradually lost most of its non-Islamist members.
"I am very sorry, but if we leave now we should not blame anybody but ourselves for the discriminatory constitution that would open the door to injustice against women, Copts and the poor," she said in an echo of complaints voiced by feminists, Coptic groups, rights groups, socialists and Islamist-socialist political groups and parties.
Ghada was never a political activist and although she "complained endlessly about the state of affairs" under the rule of president Hosni Mubarak, who was ousted about two years ago by the January 25 Revolution, she never thought of joining any anti-Mubarak activism. "I did not go to Tahrir Square – not even once, but, of course, I sympathised with the revolution, hesitantly at first, but fully later."
When Mubarak was ousted, Ghada cheered and thanked God in prayers for an end of an era that she, although subscribing to the better-off socio-economic segment of an otherwise economically-challenged society, thought was marked by "undeniable engulfing poverty and injustice."
On that evening of 11 February 2011, Ghada whose initial reluctance to support the revolution was prompted by her fears that the alternative to the Mubarak regime would be an Islamist takeover, starting having her early worries about the fate of the country that she lives in. "Already so many of my Christian friends and neighbours have emmigrated due to their sense of unfairness and I did not want to see the last Christian resident of Heliopolis leave," she said.
Although lightly veiled, in line with an Islamic precept that was only introduced to Egypt in the second half of the 1970s under the rule of late President Anwar Sadat who is blamed by critics for exaggerating the role of political Islam to serve a narrow agenda of alliances, Ghada was and is still concerned that the rule of the Muslim Brotherhood, to which Morsi belongs, would introduce a more hardline version of Islam into practice. "This would change the way we Egyptians like to live – along line with the other problems it carries."
Unlike, Samah, Mary, Karen, Hoda and Ayat who were walking with her towards Ittihadiyah, Ghada is not sure that she wants Morsi to go. "I am not sure I feel strongly about him going because we have to have stability; he could stay but he needs to stay as a president of all Egyptians who serves the interests of all Egyptians and not just of the Islamists, who have been his only supporters and who have been dismissing everybody who disagrees with him as an infidel. I don't take myself for an infidel and I am not the only Muslim veiled woman who is opposed to Morsi, today, more than ever before."
In the first round of elections Ghada voted for Nasserist runner Hamdeen Sabbahi and chose to boycott the second round to avoid having to choose between Morsi "of the Muslim Brotherhood" and Ahmed Shafiq, Mubarak's last prime minister, "who would clearly have re-introduced the Mubarak regime in full."
Ghada represents a group of the thousands and thousands of people who had been surrounding around the presidential palace in north-eastern Cairo to protest his constitutional decree and his hastened decision to offer the non-consensual draft of the constitution for referendum.
Omar and Khaled, maternal cousins, in their late 20s with entry-level administrative jobs represent two other groups. Omar is a member of the Muslim Brotherhood and its political arm, the Freedom and Justice Party. Khaled is member of Al-Dostor [Constitution] Party, led by Mohamed ElBaradei, who is widely perceived in many revolutionary quarters as the "inspiration for the revolution."
From one of the poorer villages of Giza, Omar and Khaled took two buses together in a commute that took them over two hours to get to Heliopolis to support their respective camps – one for and the other against the president on Wednesday evening. That day saw harsh clashes between Morsi supporters and opponents that left eight dead – including one member of the Muslim Brotherhood, according to the accounts of the prosecution, and close to 800 wounded.
"I am supporting Dr Morsi in everything he has done; the constitutional declaration helps him impose the right things and right ideas he has in mind, which are meant to serve the interest of Egypt, but that are being opposed by those liberals and the Christians who do not want to see sharia [Islamic law] fully applied," said Omar.
The application of sharia, in the eyes of Omar who joined the Muslim Brotherhood at the age of 11, is the only way out for Egypt from poverty and discrimination against the poor. "We are ordered by the Almighty to follow his rulings and not to make our own rulings and this is why I support the constitution although I don't think it fully observes the rulings of sharia, but it is a step in that direction," he said.
For Khaled, what counts most is the unity of people. "Anything that divides the unity of all Egyptians should be put aside." Intimidated by his cousin's remarks regarding the supremacy of the words of God above those of humans, Khaled hastened to add that he is not opposed to "the core of sharia but things must be done in the order of priorities.
"Ending poverty is certainly one of the main things that a Muslim society should pursue and this constitution is giving enough attention to the poor," he said.
In any case, Khaled insisted, "when I voted for Morsi [in the runoff between the two most-voted for candidates] I did so because he promised to be a president for all Egyptians and not just some of us."
He added with a smile, "Today, he does not have the support of anyone other than people like Omar."
As huge crowds of the Muslim Brotherhood were finding their way to Al-Ahram Street on one side of the Ittihadiya palace, Omar looked at Khaled and said "stick to me – you will not get hurt."
Khaled might not have been hurt but Mina, a 25-year-old anti-Morsi protestor has a broken arm that he said on Saturday afternoon was the result of the Wednesday clashes. "Actually, I was not clashing with anyone and, in fact, I was running to escape the fights next to the walls of the palace when I stumbled and fell."
Mina says he wants to be careful that his injury is not portrayed as an "Islamists' attack against Christians, because I was hurt because I happened to be there when the clashes broke out. I was hurt and so were Muslim friends who were with me at the time – this is not about religion, at least not my story."
Mina's opposition to Morsi, he said is "in large part" due to what he feels is an anti-Coptic sentiment that "is bound to develop into some action later, especially if the current constitution is passed."
However, he added, that the opposition to the president has also much to do with the constitutional declaration Morsi issued on 22 November and not just the draft constitution that would replace all others. "Morsi wants to be a dictator – an Islamist dictator to replace Mubarak who was a military dictator. I am opposed to dictatorship under any title," said Mina who had been party to the January 25 2011 uprising from the beginning to 18 days later when Mubarak was ousted.
"Come on Morsi: Leave. We want Shafiq to come and be the president," shouted Marianne, a 19-year old student of one of the private universities. Marianne was half-joking and half-serious because she "really" wants Morsi to go and because she voted for Shafiq in the first and second round of the presidential elections.
Marianne says she is not sure whether Shafiq would come to power if Morsi leaves but she thinks there is a possibility, given that "he should have been the announced winner anyway."
Shafiq, who had acknowledged the results of the elections, decided recently to file a lawsuit over what he alleges was the falsification of the results of elections in Morsi's favour. Shafiq told has been telling the press over the past month that he was notified by top state officials that he was winner before he learned from TV that Morsi was announced winner.
Sally, Marianne's elder sister, a pharmacist, also voted for Shafiq in the two rounds of elections. Today, she thinks that it would be "very dangerous" to try and get him into the presidential palace if Morsi leaves. "It would be a civil war with the Muslim Brotherhood and the Salafists."
"Let him leave and then let anybody come after, but let him go first," said Nadia, the Muslim demonstrator who was standing next to Marianne and Sally.
The reason Nadia wants Morsi to go is very straightforward: He cannot be a good president because he is acting upon the will of the Muslim Brotherhood and not upon the will of Egyptians.