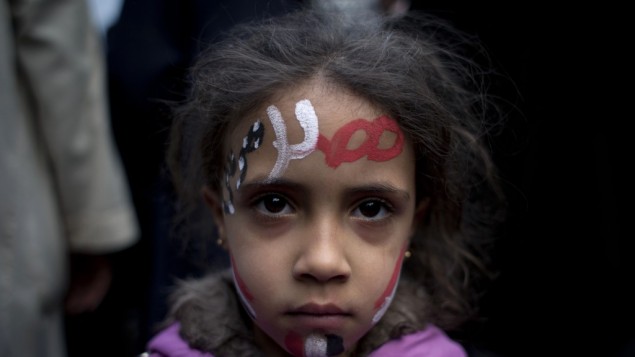 A controversial decision by Egypt's Supreme Judicial Council to completely refrain from supervising a referendum on the recently approved constitution remains the top story in the Arab press.
"Egypt: Judiciary boycotts the referendum… and the constitutional committee suspends work," reads the main headline of the London-based daily A-Sharq Al-Awsat, long known for its anti-Islamist leanings. The paper reports that judges on the council — all appointed by deposed former president Hosni Mubarak — feared for their safety when they saw crowds of Muslim Brotherhood supporters blocking the roads leading to the gates, "climbing the fences… and inciting the people against them."
The judges said they would rule on the validity of the new constitution, which was passed by a constitutional assembly entirely devoid of non-Islamist members, only after all "psychological and physical pressures" were lifted.
The Muslim Brotherhood vehemently denied the allegations that the judges' lives were in danger, accusing them of kowtowing to the opposition's calls "for massive civil disobedience, which threatens to further divide and build confrontation in the country" and seeking an excuse for "a dangerous escalation against President Mohammad Morsi."
Muslim Brotherhood supporters argue that President Morsi had no choice but to issue his November 22 decree, which stated that his own edicts were above judicial review until the passing of a constitution. Egyptian courts had, after all, proven themselves to be extremely obstructive to the government's efforts to move Egypt's political transition forward by previously disbanding both the parliament and an earlier constitutional assembly.
That hardly makes Morsi and the Muslim Brotherhood's efforts any more free or democratic, cries Abdul Rahman Al-Rashed, the general manager of Al-Arabiya television and the former editor-in-chief of A-Sharq- Al-Awsat, in an op-ed entitled "The Brotherhood and intimidation of judges and the media."
"Strange and indifferent in difficult times… Morsi's men speak vulgarly about their fellow citizens and have launched campaigns against the Egyptian opposition and media," he writes. "His followers and imams at the mosques shamelessly say that he is the new caliph, the new leader of Islam, and that he alone has the final say… Meanwhile the Brotherhood attacks the media and journalists, calling them immoral and infidels."
Dr. Mamoun Fandy, an Egyptian-born American scholar and a senior fellow at the Baker Institute, agrees. In his own op-ed, "Egypt in a dangerous curve," Fandy argues that Morsi's actions are only causing division and will eventually tear Egypt apart.
"Morsi's intransigence will only yield more intransigence on the other side," he predicts. "Will Egypt become so divided that it resembles the state of the Palestinian division between Hamas and Fatah… or will we split like in Lebanon? This is what can be expected. Will Egyptians realize the price they are about to pay, before their stubbornness pushes them to the edge of hell?"