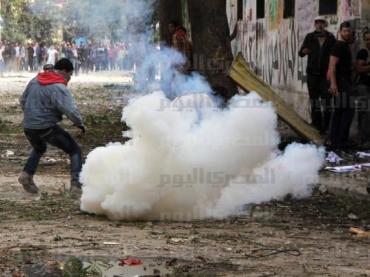 Clashes continued Wednesday for the third day between angry protesters and security forces in Mohamed Mahmoud Street.
Young protesters hurled rocks and Molotov cocktails at the Central Security Forces (CSF), with the latter taking to surrounding building rooftops, including Lycee El-Horreya School. Protesters set fire to tires in the middle of the street.
Since early morning, the CSF positioned in Lycee El-Horreya School on Youssef El-Gendy Street and Mohamed Mahmoud Street and threw rocks and school furniture at protesters.
Younger protesters attempted to storm the school through its main gate or lower floor windows but were discouraged from continuing by older protesters.
The CSF fired back tear gas grenades from time to time.
Injured protesters have been transferred to hospitals by motorcycle. Traffic was completely blocked in the street that fast resembled a war zone with broken rocks, torched tires and destroyed furniture strewn everywhere.