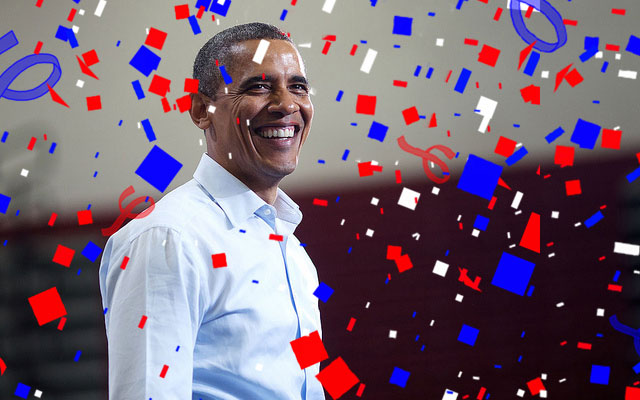 Reaction in the Middle East to Barack Obama's re-election has ranged from wariness to disappointment. Regional leaders and the Arab street were, at best, underwhelmed. There is no sense that the incumbent's second term offers the same sort of hope that his first did, four years ago.
Obama's Cairo speech was a beacon on the hill that steadily dimmed throughout the past four years. With the region now in turmoil, few seem to believe the leader of the world's largest economy and most powerful military has the will to do much about the situation.
Egypt's Islamist president, Mohamed Morsi, sent Obama a cable expressing the hope that a second term would "strengthen friendship" between Washington and Cairo. Aside from that, reaction, at least initially, was largely mute. In Saudi Arabia and Jordan, both US allies, there was no immediate official response.
Lebanese leaders offered pro-forma congratulations, with the country's beleaguered prime minister, Najib Miqati, suggesting that a second four years may give "new momentum" to stalled bids to bring peace.
Foes in the regional, particularly Iran and Syria, also said nothing. Syria's opposition, however, was more forthcoming. "Things will move after the election," said a senior leader of the military council, an exiled group of senior officers who have defected. "We have been waiting for this moment. Now you will see a difference."
Other rebel leaders inside Syria were less convinced. "We were hoping for Romney," one Aleppo commander told the Guardian. "At least he said he would do something different. With Obama it has been all words."
In Beirut, where the Syria crisis looms large, Romney's less strident regional stance as the poll drew near was noticed. "He started by saying he would send weapons to the opposition and by the ened he was singing the same tune as Obama," said Mahmoud Diab, a banker. "He seemed not to know what the real situation was, or how to deal with it."
Obama won praise in some parts of the region early last year when he swung his weight behind street protesters in Cairo, publicly cutting loose the autocrat Hosni Mubarak, a staunch US ally for the past 30 years.
That decision earned him the ill will of Riyadh and cooled relationships between Washington and the Gulf capitals. In the past year, in the lead up to Thursday's poll, there was no sign that Obama wanted to be any more proactive than he had already been in the region.
As Syria descended into the abyss, Washington refused to be drawn into a lead role in any intervention, taking a bit part in regional efforts to organise and arm the anti-Assad opposition.
"We were very frustrated with the Americans," a senior Turkish official told the Guardian this week. "We expected more from then. Even now, I'm not sure they want to lead. Let's hope they do."