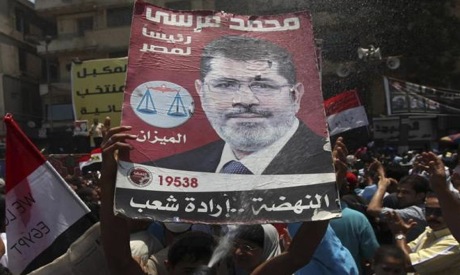 The Muslim Brotherhood called a Tuesday million-march on the Twitter account of the group's official website Ikhwanweb, to support President Mohamed Morsi's Sunday decree that reinstated the People's Assembly, the lower house of Egypt's parliament.
The Brotherhood's Secretary-General Mahmoud Hussein told Al-Ahram's Arabic language news website that the aim of the march is not to support Morsi per se but rather his decisions that Hussein says have "fulfilled the public demands to regain the parliament, an achieved goal of the revolution."
"The mass protest was called for by the Brotherhood in order to join the masses, who were happy at the news of the restoration of the People's Assembly," Hussein added. The venue of the protest has yet to be decided.
Morsi's decision to revoke the Supreme Council of the Armed Forces' (SCAF) 15 June decree dissolving the People's Assembly was met with approval from Islamist political parties, which hold the majority of seats in parliament, as well as revolutionary forces such as writer Alaa Al-Aswany and the April 6 Youth Movement.
However, other public figures have voiced concerns over the decision, such as celebrated opposition leader Mohamed ElBaradei, former presidential hopeful Ayman Nour and Fouad Badrawi, secretary-general of the liberal Wafd Party.
Several liberal and leftist parliamentary parties, including the Egyptian Social Democratic Party and the Tagammu Party, have also rejected the decree and announced they are boycotting future parliamentary sessions, which are set to resume Tuesday
The People's Assembly was dismantled mid-June by the then-ruling military council pursuant to a ruling by Egypt's High Constitutional Court that found parliamentary elections law – which governed last year's legislative polls – unconstitutional.
While some legal experts argue that Morsi had disregarded the court ruling by issuing his controversial decision, others assert that he has only revoked the SCAF's implementation of the verdict.