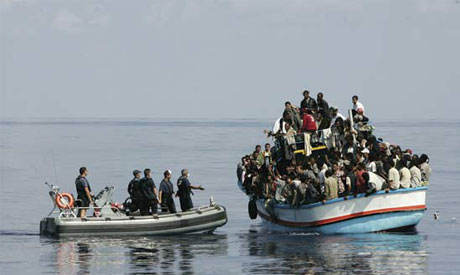 Border patrol guards and security forces in the Delta governorate of Beheira thwarted a plan late Sunday by ninety-four young men from nine different governorates to migrate to Italy.
The men were attempting to cross through the town of Edko in north Beheira (just west of the Nile Delta on the Mediterranean coast) and were arrested before boarding the boat.
The young men, ranging from sixteen to nineteen years of age, are reported to have paid between LE15,000 - LE20,000 (roughly $2,500 - $3,400) each to be lead out of Egypt.
They revealed that they paid the smugglers half up front and would pay the remainder once they reached Italy.
Italy is the top destination for illegal migration of Egyptians to Europe. Most recently, on Friday, Italy deported fifty-five undocumented Egyptian migrants who were flown back at the expense of the European Union.
Hundreds of Egyptians have been caught in similar attempts to migrate to Italy to find better work opportunities over the past few years.