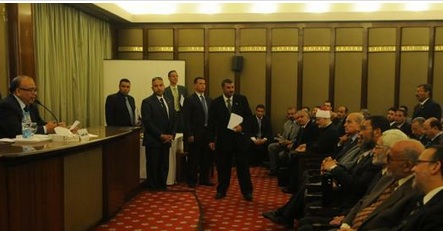 The Administrative Court on Tuesday postponed a lawsuit challenging the formation of the Constituent Assembly tasked with drafting the country's new constitution until 1 September, to hear the government's account.
Khaled Fouad, chairman of Al-Shaab Democratic Party, told judges that the process of forming the assembly had lacked organization since receiving membership applications until the election of its members. He added that the assembly had been formed illegally, and that members were selected based on their political affiliations, especially Islamists. He said that a bill issued by the People's Assembly to grant the constitutional panel immunity has not been approved by the ruling military council, which renders the panel's formation illegal.
Meanwhile, law professor Shawqi al-Sayyed said the formation of the assembly became at odds with the law by using retired judges.
An older, Islamists-dominated formation was annulled in April by the same court which cited its unbalanced makeup. The second formation, announced earlier this month by People's Assembly speaker Saad al-Katatny, had witnessed several withdrawals by members also decried its failure to equally represent all sectors of society.