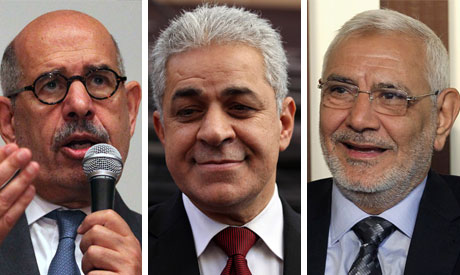 Reports have emerged that a series of negotiations were held on Friday and Saturday between reformer campaigner and Constitution Party founder Mohamed El-Baradei and eliminated presidential contenders Abdel-Moneim Abul-Fotouh and Hamdeen Sabbahi over the formation of a proposed 'national salvation' government.
Talks between the three men reportedly revolved around the notion of well-known liberal economist Hazem El-Beblawi or Ziad Bahaa Eddin, liberal member of the dissolved People's Assembly (the lower house of Egypt's parliament), heading up the proposed government in the event that Muslim Brotherhood candidate Mohamed Mursi is declared president.
Ahmed Maher, head of Egypt's April 6 Youth Movement, announced on Saturday that talks had been held between Mursi, ElBaradei and law professor Hossam Eissa.
In statements made to independent Egyptian daily Al-Shorouk, Maher claimed that Abul-Fotouh had expressed a willingness to assume the post of vice president in the proposed government.
ElBaradei's office, however, has denied that any such talks were held between ElBaradei and Mursi, stressing that no official actions or statements would be made or issued until final presidential runoff results were announced.
ElBaradei had earlier dismissed the possibility of his involvement in either a Mursi- or a Shafiq-appointed government.
"My goal is to work towards preventing confrontation through negotiations between the different national forces with the goal of reaching consensus so as to avoid an explosion," ElBaradei stated on Twitter on Friday.
On Thursday, he also stated that a 'political mediation' committee should be drawn up and mandated with finding a way out of the current political, legal and constitutional impasse.
Deputy head of the Muslim Brotherhood's Freedom and Justice Party Essam El-Erian also denied recent media reports that talks were ongoing between the Brotherhood, ElBaradei and Eissa.
Eliminated leftist presidential candidate Sabbahi, meanwhile, has refrained from stating an official position regarding his role in the would-be 'national salvation' government.
In a parallel initiative, several prominent political figures held a press conference on Friday afternoon. Speakers included members of the Brotherhood, the Revolutionary Socialists, the Socialist Popular Alliance Party and the Karama Party, along with well-known political personalities Wael Ghoneim, Shadi El-Ghazali Harb and Mohamed El-Qassas.
Speakers announced the formation of a 'national front' to act as a 'crisis-management team' to ensure the civil nature of the upcoming government in the event of a Mursi win, and resist political hegemony by Egypt's ruling military council.
Calls for a government of 'national salvation' have been repeated several times since the ouster early last year of longstanding president Hosni Mubarak. In November 2011, following the appointment of Kamal El-Ganzouri as interim prime minister, ElBaradei had been called on by supporters to lead the initiative.
Final results of Egypt's hotly-contested presidential runoff are expected to be announced at a press conference convened by Egypt's Supreme Presidential Electoral Commission at 3pm Sunday afternoon.