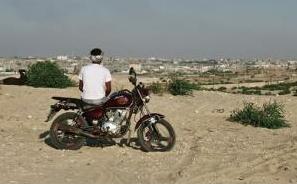 The Gaza Strip erupted in into celebration on Sunday after news that the Muslim Brotherhood's candidate won the presidency in neighboring Egypt, with one person killed by celebratory gunfire.
Tens of thousands of joyous Palestinians took to the streets across the territory after Egypt announced that Mohammed Morsy won last weekend's runoff election, the first time an Islamist won that nation's highest office.
Gunmen fired automatic weapons into the air, while mosque loudspeakers rang with prayer. Some revelers handed out candy on street corners. Others waved Egyptian flags and blasted the country's national anthem from car speakers.
A Gaza health official said that one person was killed and six others wounded by celebratory gunfire.
Gaza is ruled by Hamas, a local offshoot of Egypt's Muslim Brotherhood.
Egypt's ousted president, Hosni Mubarak, collaborated with Israel in a blockade of Gaza they said was necessary to prevent weapons from reaching Hamas.
Gaza residents say they are optimistic that the new Egyptian leader will improve relations with the impoverished Palestinian territory.
"Today is new era for us in Gaza. The days of suffering due to the Egyptian authorities are over," said Rawhi Talab, 51, a storeowner. "It's a day of joy ... I voice my hope that Egypt will work to improve our life here."
Hamas Prime Minister Ismail Haniyeh phoned Morsi to congratulate him on becoming Egypt's first Islamist president. "This is a victory for all Arabs and Muslims, and this is God's promise to his believers," the Hamas leader said to the newly elected president.
Hamas spokesman Fawzi Barhoum and other Hamas leaders followed developments closely on TV and went ecstatic when the announcement came that the Brotherhood won. "This is a victory for Egypt, the revolution and the Arab people," Barhoum said.
Gaza resident Alam Mansour handed out candy to revelers. "Today is a festival for Gaza," the 25-year-old engineering student said. "I am sure that the president of Egypt will lead the Islamic nation to great prosperity, and he will help us here in Gaza," he said.
Gaza has a 15-kilometer border with Egypt's Sinai desert and one official border crossing between the two.
The impoverished enclave burst into celebration upon hearing that the Muslim Brotherhood's Mohamed Morsy had won elections after former president Hosni Mubarak fell in a people's revolt last year.
Locked in a long power-struggle with its secular Palestinian rivals, Hamas had a mixed relationship with the previous, US-aligned Egyptian president, who supported Israel's blockade on Gaza.
"We will look to Egypt to play a big, leading role, a historic role, regarding the Palestinian cause, in helping the Palestinian nation get freedom, return home, and totally end the Gaza siege," Ismail Haniyeh, head of the Hamas government, told Reuters Television.
Hamas and the Muslim Brotherhood share ideological roots, including hostility to Israel, with which Egypt signed landmark peace accords.
The US-backed Palestinian President Mahmoud Abbas, who has pursued stop-start peace negotiations with Israel, also had warm words for the Muslim Brotherhood, calling Morsy "the choice of the great people of Egypt."
Saeb Erekat, a senior Abbas aide, said the democratic vote for Morsy "meant the Palestinian cause was the number one priority for all Egyptians".
But, Erekat said Palestinians had to heal the five-year-old and sometimes bloody schism between Hamas and Abbas's once-dominant Fatah faction.
"Regardless of who the Egyptian president is, Palestinian reconciliation is a Palestinian matter, and if we do not help ourselves, no one will," Erekat said.