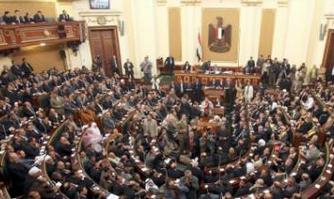 A judicial body recommended on Wednesday that the law regulating parliamentary elections be overturned, raising the possibility that the legislature could be dissolved.
"The report of the commissioners of the Supreme Constitutional Court concluded that the provisions of the parliamentary elections law are unconstitutional," state-run news agency MENA reported.
The opinion of the panel of court commissioners, while non-binding, could indicate how the court might rule. The constitutional court is set to begin hearing the case on 14 June.
Independent MP Mostafa Bakry, who enjoys close ties with the ruling Supreme Council of the Armed Forces, told the London-based Asharq Al-Awsat newspaper that he expects Parliament to be dissolved after the constitutional court rules on the case and that a date would be set for new parliamentary elections. He said he hopes it will be conducted under a single-winner voting system.
In February, the Supreme Administrative Court referred some of provisions of the parliamentary elections law, the basis on which the current Islamist-dominated Parliament was elected, to the Supreme Constitutional Court for review.
The administrative court suspected that the provision allowing political parties to compete with independents for individual seats might be unconstitutional.
The SCAF issued the parliamentary elections law in July 2011, allocating 50 percent of People's Assembly seats to individual candidates and the other 50 percent to those running on party lists. But that September, the council amended the law to a one-third: two-thirds ratio and banned political parties from competing for individual seats. A month later, the SCAF issued yet another amendment, allowing political parties to field candidates for individual seats.