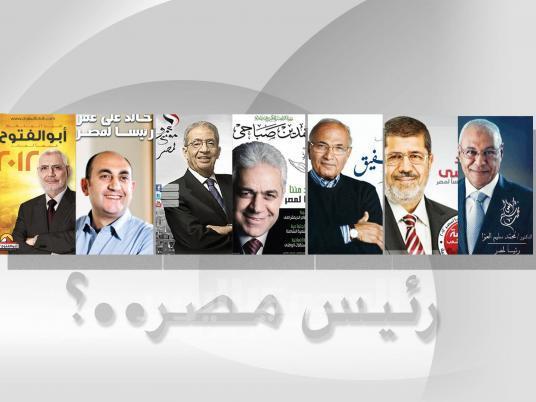 In a high-profile strategic meeting called by Muslim Brotherhood candidate Mohamed Morsy, longtime Mubarak-opposition leader Ayman Nour said he would only back Morsy in a runoff if the Brotherhood leader denounced the religious organization and its political arm, the Freedom and Justice Party.
Nour also said, in order for Morsy to get his support, he would have to form a constitutional committee "worthy of all Egyptians," and form a presidential committee and a coalition government where each minister has three deputies.
Also present was Abul Ela al-Mady, president of the Wasat party. In the meeting, he said he hoped the powers could find a road map to save the revolution through concessions from the Freedom and Justice Party.
Candidates Hamdeen Sabbahi and Abdel Moneim Abouel Fotouh did not attend the meeting Saturday evening. The meeting was called to plan a strategy for the run-off presidential election against rival Ahmed Shafiq.
Morsy's campaign announced the meeting following preliminary results Friday showed a strong showing in polls for the Brotherhood candidate following two days of voting in Egypt's presidential election.
Abouel Fotouh, a rival candidate and former Brotherhood member, did not issue a decision on whether he is attending or not, said Yasser Ali, the spokesman for the Morsy campaign.
But earlier Saturday on his confirmed Twitter account, Abouel Fotouh said that he would continue to fight for the ideals of the revolution, but hinted that he was not necessarily prepared to ally himself yet.
"We look forward to reaching a consensus to confront the remnants of the old regime, and that will guarantee the realization of the demands of the revolution …," he wrote. "But we state clearly that we will not be party to a deal that dictates positions."
Ali said during the meeting Morsy and the other candidates will decide on a strategy for the run-off, scheduled for 16 and 17 June. Many have called for all political movements to unite behind Morsy to oppose Shafiq, former aviation minister and prime minister under former President Hosni Mubarak.
Ali said any agreement reached in the meeting will be announced in a press release after its completion.
Held at the Kempinski hotel in Cairo, an Egypt Independent correspondent said the meeting included Morsy, Muslim Brotherhood spokesperson Essam al-Erian and Safwat Hegazy, a conservative Islamist preacher and former candidate, and fellow Islamist candidate Selim al-Awa. Also in attendance were Essam Sultan of and El-Mady from the Wasat party.
The Nour party is not officially attending but apparently is sending someone to monitor the meeting.
The meeting came amid calls for Morsy to back out of the race. On Saturday, MP Arm Hamzawy called for Morsy to step down.
"If the Muslim Brotherhood wants to have a consensus that saves the revolution, democracy and the civilian state and prevent the reproduction of the old regime and its domination, let Morsy withdraw," the liberal MP wrote on Twitter.
"Morsy withdraws, [Hamdeen] Sabbahi competes with Shafiq and we all support him. Without this and due to the changeable stances of the Brotherhood, we will not have a real national consensus," he wrote.
A Nasserist, Sabbahi came a close third in the first round of the presidential elections, held Wednesday and Thursday. He has scheduled a press conference for 8pm Saturday.
It's unclear legally, however, whether Morsy's departure would legally mean a direct victory for Shafiq, or a runoff between him and Sabbahi.