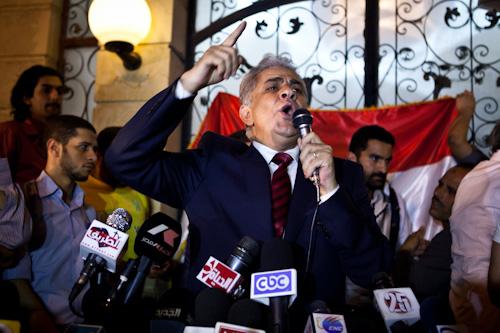 Presidential candidate Hamdeen Sabbahi said he will not accept a vice presidential position under the Muslim Brotherhood in a raucous press conference Saturday evening.
"I won't accept a position or a title," he told crowds of screaming supporters. "I won't compromise."
He also pledged that he will expose all violations in the elections process, and thanked all voters who cast ballots for "candidates of the revolution."
"Even if the results of the appeals we have made are not what we expect them to be, that does not mean that Egypt did not choose a future, and choose justice," he said. "We wait for the final results, and we hope for victory."
Sabbahi's press conference came at the same time as a high-profile meeting between Muslim Brotherhood candidate Mohamed Morsy and other political forces who met with the intention of forming a strategy for beating rival Ahmed Shafiq in the run-off election, scheduled for 16 and 17 June.
Sabbahi and fellow moderate Islamist candidate Abdel Moneim Abouel Fotouh did not attend.
By most preliminary counts, Sabbahi came in third in the race. According to data compiled by Al-Masry Al-Youm, he took 21.1 percent of the vote, with former Prime Minister and Aviation Minister Ahmed Shafiq coming in second with 24.5 percent, and Brotherhood leader Morsy in first with 24.9.
After the preliminary results came in, some called for a unification of support behind Morsy in order to prevent Shafiq from taking the post, and other groups have called for his withdrawal, based on the Muslim Brotherhood's earlier promise not to field a candidate.