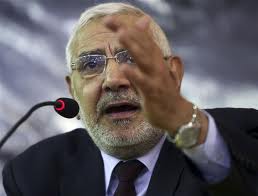 Dr. Abdel Moneim Aboul Fotouh, the presidential candidate in an interview with Mona al-Shazly on Dream private TV on April 28, 2012 talked about the freedom of belief, and refused to kill the apostate according to the Islamic Sharia. He mentioned a verse of Quran that gives everyone the choice to believe or not.
He added, Freedom of belief is a basic freedom that everyone should have, and the state should protect those apostates.
However, on his presidential debate with Amr Moussa couple of days ago, Abul Fotouh said apostates should be given a chance before they are put to death.
He denied his previous announcements saying that God has given the people the right to choose their religion not the right to abandon it.
Apostates are against Islam and against the community, and fighting the religion which is the constitution of the nation, he said.