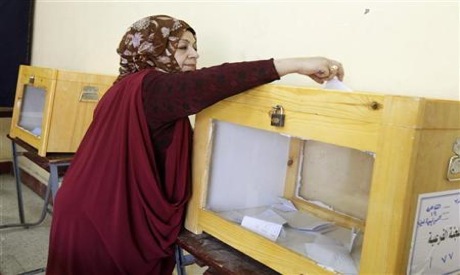 Egypt's Ministry of Foreign Affairs released a statement on Wednesday containing detailed voting guidelines for Egyptians living abroad, who will be able to cast ballots in Egypt's first post-revolution presidential poll from 11 to 17 May.
According to the statement, voting will take place in the Egyptian consulate in each country, in line with directives issued by the Supreme Presidential Electoral Commission (SPEC).
Voting will begin at 8am after the examination of ballot boxes.
Each presidential candidate will be required to appoint one delegate to each country's electoral sub-committee, in order to observe the polling process.
NGOs will be permitted to monitor voting with permission from the SPEC. They will not be allowed, however, to interfere in the voting process. Media personnel, too, will be allowed to monitor the polling, according to the foreign ministry.
There will be two ways, meanwhile, by which expats, who registered to vote between 31 March and 4 April, will be able to cast their ballots.
First, the voter can personally go to the consulate, where he/she can vote. In this case, they must present their national identification card or a document approved by the state in which they reside (a residency visa, valid driver's license, student ID card, etc). Afterwards, voters will sign their names and cast their vote in the ballot box.
The second option will be to vote through the mail. In this case, the sub-committee head must receive the envelopes that contain all the ballots. He/she must ensure that the necessary documents are completed and contain all required data. Missing data will immediately invalidate the ballot.
According to the regulations governing the voting process abroad, each sub-committee head must confirm that all ballots have been collected following the end of the voting process, collecting them in a sealed envelope to be forwarded on to the General Committee in Egypt. The General Committee will then count the votes and provide the SPEC with a final tally for each candidate.
Egypt's first post-Mubarak presidential poll is slated for 23/24 May, with a runoff vote to be held on 16/17 June in the event that no single candidate wins an outright majority. Egypt's next president will be formally named on 21 June.