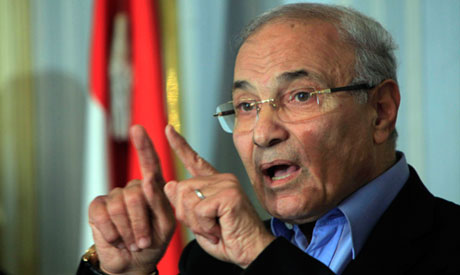 The Supreme Presidential Electoral Commission (SPEC), tasked with managing the elections process, has reportedly decided not to ban Mubarak's last prime minister Ahmed Shafiq from the presidential race, commission sources have revealed.
This comes after Tuesday's statement by the High Administrative Court that said SPEC has no legal right to refer the Disenfranchisement Law to the Constitutional Court in order to determine whether it is constitutional or not.
The court's announcement implies that the elections commission should have acted on the legislation, which bans Mubarak-era officials, such as Shafiq, from holding political posts.
The source confirmed that Shafiq's legal status will not be affected by the Administrative Court's rejection of the SPEC's referral.
However, the SPEC has decided not to announce its decision, the source told Ahram Online, until the commission's head Farouk Sultan returns from a trip to Morocco. Additionally another member of the commission is unwell and was not able to attend Wednesday's meeting regarding Shafiq's presidential bid.
The former aviation minister was disqualified from Egypt's presidential elections on 25 April, after the Disenfranchisement Law was passed by parliament and approved by the ruling military council.
One day later, however, the SPEC accepted an appeal lodged by Shafiq, allowing him to rejoin the presidential race, even though the law was still technically in place.
Shafiq's campaign refrained from commenting on the Administrative Court's decision, stating merely that it would "abide by the SPEC's decision", according to campaign spokesperson Ahmed Sarhan.
Shafiq is currently the third most popular presidential candidate, according to three recent opinion polls.