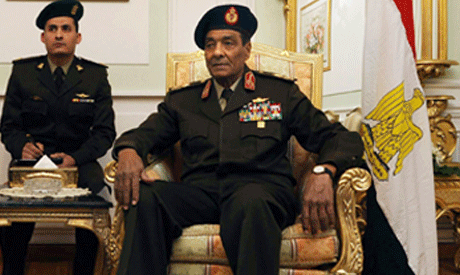 The Supreme Council of the Armed Forces (SCAF) has agreed with political parties in a meeting on Saturday on six main criteria by which the constituent assembly tasked with drafting Egypt's new constitution will be formed.
The 6 points agreed upon in the meeting include:
Consensus has to be reached over the proportions alloted to each soceital group or faction in deference to the administrative court ruling.
Consensus has to be reached over any single constitutional article. In case consensus cannot be reached, a two-thirds majortiy must be reached and if such a majority cannot be reached within 24 hours, then a 57-member majority -- out of 100 members -- would be sufficient.
Each party will choose its own representatives. Religious institutions will also choose their representatives. Al-Azhar will choose four, while Egypt's churches including the Catholic, Orthodox and Anglican will choose six representatives. Ten legal and constitutional experts will be chosen and a member of each judicial institution will also be represented in the constituent assembly. Farmers will be allotted two constituents and workers will also be granted two seats. Public figures including women, students and the disabled will also be assigned seats.
Efforts will be exerted to finish the drafting of the new constitution before presidential election runoffs are completed.
Egypt's de-facto leader and SCAF head Field Marshal Hussein Tantawi will call both Upper and Lower houses of parliament to stage a joint meeting to elect members of the constituent assembly.
A supervising committee will be formed to include representatives of the Wafd Party, the Muslim Brotherhood's Freedom and Justice Party, the Egyptian Bloc, El-Hadara Party and the Ghad El-Thawra Party. The committee will also include independent MPs including Mostafa Bakry and Marian Malak.
This meeting which took place in the Ministry of Defence in the Abbasiya district of Cairo was twice posptoned. Attempts by Egypt's political elites to proceed in the constitutional-drafting process have been beset with troubles from the start: the first assembly being disbanded.
Days after the formation of the first assembly, a mass walkout jeopardised the constitution-drafting body. Members from liberal and leftist parties, independent prominent figures and representatives of professional and trade unions as well as representatives of the Coptic Church and Egypt's main Islamic authority, Al-Azhar, all pulled out, citing disproportionate representation.
The dissident voices objected to the Islamist majority in the assembly and the method used to select members. The Islamist-dominated Parliament allotted 50 seats for MPs, which they themselves appointed, and the remaining 50 for non-parliamentarians.
In the end, Islamists comprised more than 65 per cent of the first assembly's 100 members, with the Muslim Brotherhood and the Salafist Nour Party -- the two largest forces in Parliament -- winning the greatest number of seats.
Many protested that the Assembly did not reflect, and would not protect, the diversity of Egyptian society.