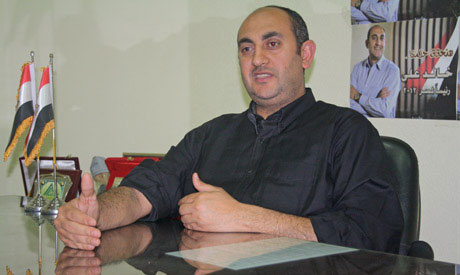 The Egyptian state continues to treat its nationals abroad with the same contempt that the former Mubarak regime did, presidential candidate Khaled Ali said in a statement Sunday.
Last year's revolution, he said, "had been intended to restore Egyptian dignity both at home and abroad," he said.
He condemned what he described as "negligence" on the part of Egypt's ambassador in Saudi Arabia to protect Egyptians living and working there. "That is why he must be withdrawn from his post and questioned," Ali said.
This negligence, the presidential candidate said, was why Egyptian activists had to intervene in the ongoing diplomatic row over Egyptian lawyer and political activist Ahmed El-Gizawi by staging protests in front of the Saudi Arabian embassy in Cairo to demand his release by Saudi authorities.
"The Saudi government managed to avoid having to resolve the case fairly by attempting to turn it into a diplomatic crisis that will only further complicate the situation," Ali said.
Egyptians have been protesting for days outside the Saudi embassy in Cairo's Giza district to call for El-Gizawi's release and denounce the alleged mistreatment of Egyptians by authorities in the oil rich kingdom.
El-Gizawi was detained last week by Saudi authorities on charges of "defaming the king" after he filed a lawsuit in a South Cairo court against Saudi monarch King Abdullah Bin Abdel Aziz Al-Saud on behalf of Egyptian nationals that reportedly continue to languish in Saudi prisons without charge.
Following reports that El-Gizawi had been sentenced to 20 lashes and a one-year prison term, Saudi officials denied the claims, stating instead that the lawyer had been arrested after being found in possession of more than 21,000 pills of anti-depressant drug Xanax, illicit trade in which is legally proscribed in the Kingdom.