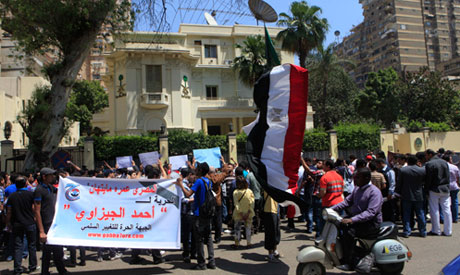 Hundreds of Saudi and Egyptian bloggers on Sunday expressed solidarity with one another on social-networking platform Twitter, amid an ongoing diplomatic row between their two countries.
Only hours after the Saudi ambassador to Cairo departed Egypt on Sunday, Saudi activists created an Arabic-language hashtag on Twitter loosely translated as "an Egyptian influenced my life."
Saudi Arabia withdrew its ambassador and closed its embassy and consulates in Egypt following what it described as "unjustified" protests.
Egyptian activists staged protests last week at Saudi's embassy in Cairo to demand the release of Egyptian lawyer Ahmed El-Gizawi and to denounce the alleged mistreatment of Egyptian nationals by Saudi authorities.
El-Gizawi was allegedly charged with "defaming the king" after he filed a lawsuit in a South Cairo court against Saudi monarch King Abdullah Bin Abdel Aziz Al-Saud on behalf of Egyptian citizens held without charge in Saudi prisons. Saudi authorities, however, maintain that El-Gizawi had been found in possession of large amounts of pharmaceutical drugs, sale of which is illegal in the oil-rich kingdom.
Hundreds of Saudi bloggers and internet users later joined together on a single hashtag to list the names of Egyptians that had "touched their lives," including prominent Egyptian writers, actors, footballers, and, in some cases, even their teachers.
Egyptian bloggers responded to the gesture by launching a similar hashtag, citing Saudi icons that had had a positive impression on them. As of Sunday afternoon, the mutual compliments remained ongoing.