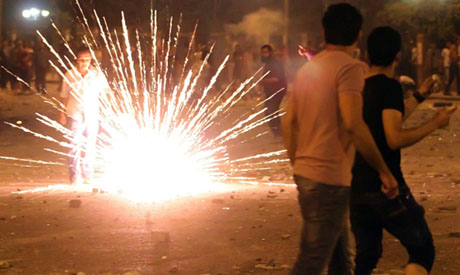 Deputy Health Minister Hisham Shiha stated Sunday that clashes near the Defence Ministry late Saturday left 91 injured and no fatalities.
The injured were treated at Demerdash, Hussein, Dar El-Shefa and El-Nozha hospitals, Shiha added. Of the injured, 77 had light wounds.
However, Mohamed Fatouh, the head of the Association of Tahrir Doctors, which has treated the injured near the site of the clashes, told Ahram Online that his group could confirm that four were killed and at least 70 injured.
AP had reported earlier that one protester was killed during the clashes.
Shortly before midnight on Saturday, unknown assailants had attacked tens of protesters who had been staging a sit-in since late Friday night near the Ministry of Defence headquarters near Abbasiya Square.
The protesters who included many supporters of the recently barred presidential candidate Hazem Salah Abu-Ismail as well as other activists were voicing their opposition to the decision by the Supreme Presidential Electoral Commission to disqualify the Salafist preacher from the race for Egypt president which is set for May.
Supporters of the Salafist preacher have called for the repeal of article 28 of the constitutional declaration that was issued by the ruling military council (SCAF) in March 2011, which they blame for the exclusion of their candidate from the race. Others have chanted against the SCAF and demanded the military council hand power to a civilian administration.
The attackers used molotov cocktail bombs and cement bricks in their assault on protesters, and gunfire was also heard according to eyewitneses.
Protesters and supporters set up a field hospital to treat tens of injured comrades, and eyewitnesses say many of those treated, or were being transported to a nearby hospital, suffered from wounds caused by gun shots and rocks.
Activists posted pictures on the Facebook social media network showing a number of protesters who were allegedly shot by pellet bullets in the confrontations. They also posted pictures which show Abu-Ismail supporters allegedly arresting a person they described as one of the "thugs" who attacked the sit-in.
Eyewitnesses suggested that hundreds of new protesters later joined the ones under attack in the vicinity of Abbasiya, and the numbers of those resisted the assault reached 2000 in the early hours of Sunday morning.
Presidential hopeful Abdel-Moneim Abul-Fotouh condemned on his official twitter account on Sunday the state's reluctance to protect protesters that were attacked by unknown assailants near the Ministry of Defence late Saturday evening.
"The protection of peaceful demonstrators is a state responsibility…remaining silent regarding the violent dispersion of a sit-in is a crime."