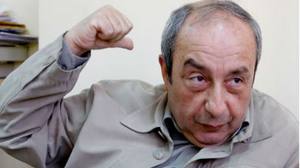 Eng. Tarik al-Nabarawy sent a message today to Muslim Brotherhood (MB) about what he considered a waste of public money in useless advertisements.
He added in his letter, "we struggled for many years to stop seizing Engineers union funds; we, Engineers against guarding movement, have fought corruption in the union like wasting 400 million pounds in 10 years".
Al-Nabarawy criticized paying 12.000 pounds illegally for advertisements to help MB in the previous elections of Engineers union.