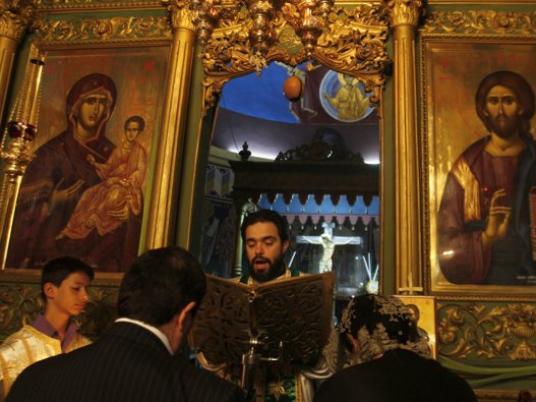 JERUSALEM — Thousands of Christians gathered in Jerusalem for Easter Sunday to commemorate Jesus Christ's resurrection, crowding into one of Christianity's holiest churches, worshipping, singing and praying.
Catholics and Protestants took in turns to hold ceremonies within the ancient Church of the Holy Sepulcher, built on the site where many Christians believe Jesus was crucified and buried.
Inside, clergymen in flowing white and gold robes celebrated Mass, the air thick with incense plumes. Believers swarmed through the winding church — a series of cave-like spaces decked with ornate decorations and stairways leading to galleries and descending into dark, cavernous rooms, joined by a soaring dome roof. Different and often feuding Christian sects control parts of the Sepulcher, heavy with incense, filled with scurrying monks and awed crowds.
Italian Premier Mario Monti, in the church on a private visit, joined the masses of Christian faithful. He shook hands with pilgrims and spoke to monks in the Old City.
Thousands of Palestinian Catholics smashed boiled egg shells against each other, representing Jesus' emerging from his tomb. They ate circular bread symbolizing his crown of thorns. They greeted each other with the Arabic felicitation, "Christ has arisen," prompting the response: "Verily he has arisen."
"Jesus promised us salvation and hopefully, we will be worthy of it, because he is truthful of his promise to us," said local priest Marwan Deidis.
There are about 110,000 Arab Christians in the Holy land, along with thousands of Christian foreign workers, asylum seekers, and Russian-speaking immigrants. Tens of thousands of Christian pilgrims from outside the region also flock to Jerusalem and the Holy Land for Easter rites.
Outside the ancient city's walls, several hundred Protestants gathered in the Garden Tomb, where they believe Jesus was buried. They sat in a sunny, leafy green garden listening to a sermon and sung gospel music.
Meanwhile, thousands of other Christians belonging to Eastern Orthodox churches, who celebrate Easter using a different calendar from their Catholic and Protestant brethren, marked Palm Sunday.
Several dozen Ethiopian Christians who also use the older calendar gathered in a niche of the Sepulcher church, wearing long white robes, decked in white, blue and black rimless hats. They sang in their ancient language, marking off beats with a silver instrument that made a rattling sound.
In the Hamas-ruled Gaza Strip, dozens of Greek Orthodox Palestinian Christians celebrated Palm Sunday. They gathered into their tiny stone-built church, painted sky-blue and decorated with icons of Jesus, his mother Mary and other saints. Four young men garbed in white and gold robes sung from prayer books, believers lit candles and chanted in Arabic, recording the journey made to Jerusalem, where his followers decked his path with palms and olive branches.
"Jesus went to Jerusalem to call people to peace," said Jaber Abdullah Jindi, a Gazan Christian. "And just as he did, we hope that there will be peace in all the region, especially in Palestine."