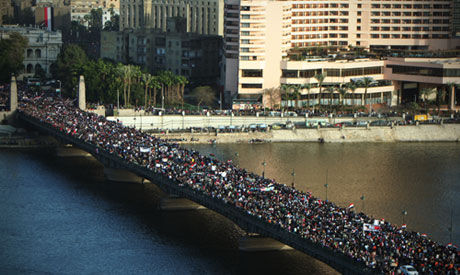 The Constitution for Every Egyptian Front, a coalition of 31 political parties and forces, issued a statement Sunday calling for a huge protest in front of State Council at 10am, Tuesday, 23 April. The demonstration is in solidarity with a lawsuit filed against parliament calling for the nullification of the current Constituent Assembly, which the group said has lost its legitimacy.
This follows a walk-out of several members of the assembly since it was instated at the end of March.
Announced during a meeting held at the National Assembly for Change premises, the statement called for a "new uprising" to prevent the 25 January Revolution from being aborted. They called on people to defend the rights of all Egyptians.
This is needed, the signed statement read, as the ruling Supreme Council of the Armed Forces (SCAF) has given way to religious currents. The SCAF had clearly handed all power to the Muslim Brotherhood, the group said, as the Islamist group won the majority in both the lower and upper houses of the parliament and the Constituent Assembly.
The Front, which includes the Revolutionary Youth Coalition, April 6 Movement and the Kefaya protest movement, was founded in March 2012 after the Constituent Assembly crises, which saw the Islamists secure over 65 per cent of the assembly's seats. This resulted in several liberal and leftist members and the Al-Azhar representative, Egypt's most important seat of Islamic learning, resigning.
The group aims to guarantee fair representation of Egypt's diverse society in the assembly, that basic rights to liberty, dignity, social justice and decent living are enshrined in the constitution and that the finished document is properly agreed upon.
Sunday's statement also said that the Brotherhood's recent announcement that they are backing a presidential candidate (second-in-command Khairat El-Shater) was the concluding chapter of long saga between the SCAF and the Islamist group.
The two forces, the statement says, are continuing to work together in an arrangement that is blessed by the United States and Gulf countries. This "conspiracy", it adds, has aborted the objectives of the revolution, is a complete betrayal of the revolutionary martyrs and prevents freedom and development for all Egyptians.
The statement stated it is a critical time for Egypt as the revolution is under threat from all sides. Particularly, the Front added, as it is now clear to what degree the Islamists dominate parliament and the Constituent Assembly.
The Front concluded by calling all "patriotic" Egyptians, who went down to Tahrir square on 25 January 2011, to boycott what it considers the illegitimate Constituent Assembly.
In addition, the coalition thanked all Egyptians who already embargoed the committee.