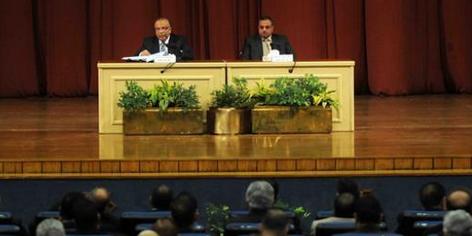 Thirty of the 50 seats allotted to members of Parliament in the constituent assembly that will write Egypt's new constitution will go to Freedom and Justice Party MPs, and 10 to the Nour Party, according to an agreement in principle between the two leading parties.
Ahmed Abdel Rahman, from the FJP, said Wednesday that the final agreement would be announced on Saturday.
Based on the deal, the two parties would select the candidates for the remaining 10 parliamentary seats, in addition to another 25 public figures from outside Parliament. For the remaining 25 seats, groups outside of government will submit nominees for the Parliament to vote on.
This arrangement would leave the two Islamist parties in charge of selecting 75 of the constituent assembly's members.
Members of the Muslim Brotherhood, the FJP's parent organization, head the Doctors, Veterinary and Engineers syndicates, all of which are among the organizations from which the constituent assembly will draw its non-Parliament members.
FJP MP Farid Ismail said each selection should have a good reputation, experience, efficiency and no association whatsoever with the former Mubarak regime or involvement in corruption.