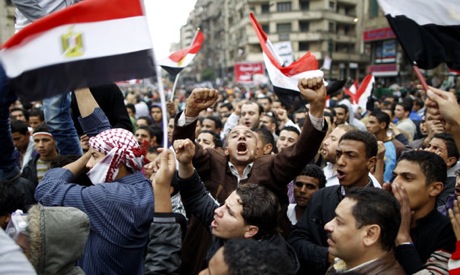 The Alliance of Egyptian Revolutionaries is calling for a demonstration on Friday in front of Egypt's Supreme Court in Cairo's downtown district to protest what they describe as the "farcical" rules set by parliament for choosing members of the constituent assembly tasked with drafting a new constitution. The alliance, which consists of several revolutionary youth movements, is also preparing to hold protest marches on Saturday to the International Conference Hall in Nasr City on the capital's outskirts.
The alliance demands that the People's Assembly (the lower house of Egypt's parliament) reverse its recent decision mandating that half of the 100-member constituent assembly be drawn from among sitting MPs.
Protesters plan to march to the conference hall where members of both the People's Assembly and Shura Council (the upper, consultative house of parliament) will meet to discuss the formation of the constituent assembly.
Alliance spokesman Amr El-Wakeel said that protesters planned to hold signs bearing slogans such as "Article 28 [of the constitution] is against God's laws," along with other banners and signs demanding the release of all civilians unjustly detained by the military.
Article 28 of Egypt's current national charter prohibits appeals against decisions issued by Egypt's Higher Presidential Elections Commission, which is mandated with supervising the electoral process. Egypt is slated to hold its first post-Mubarak presidential poll on 23 and 24 May.
El-Wakeel went on to stress that protesters had "many questions" for members of both houses of parliament, pointing out that the People's Assembly had not passed any new laws for the good of the people in the two months since the election of its members. This, El-Wakeel said, contravened earlier promises by the Muslim Brotherhood – which controls the largest bloc in parliament – to draw up a constitution representative of all segments of Egyptian society.
In order to realise a constitution truly representative of the people, El-Wakeel asserted, the number of sitting MPs in the 100-member constituent assembly should be decreased to 20.
The Alliance of Egyptian Revolutionaries was established in the wake of last year's Tahrir Square uprising, which culminated in the ouster of longstanding president Hosni Mubarak. It consists of over 50 political groups, including the country's six most prominent revolutionary movements.