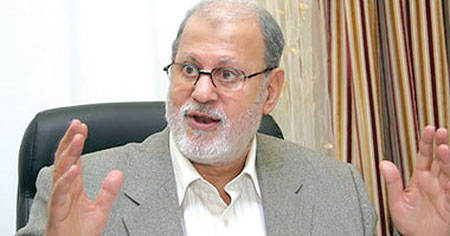 The Muslim Brotherhood's dismissal of presidential hopeful and former leader Abdel Moneim Abouel Fotouh was "against its customs," according to one of the group's former deputy supreme guides.
"Abouel Fotouh did not violate the ideology or methodology of the group, but he went against a regulatory decision," Mohamed Habib said in an interview on the privately owned CBC channel on Wednesday.
Habib, a geology professor, resigned from the Brotherhood in July 2011 following a split with the group's guidance bureau over controversial internal elections in 2009. Like Abouel Fotouh, he was considered to be a reformist presence within the group.
Instead of reassuring the public that the group is not greedy for power, Habib said, dismissing Abouel Fotouh "sent a negative message to the public about what the Muslim Brotherhood might do if it came to power," Habib added.
"Young members started to become tired of the exclusive decisions of the [leadership of the] group," he said, referring to young members who support Abouel Fotouh against the will of their leaders.
"[The leaders] need to adapt to the post-revolution situation, but they thought that the culture of obedience would continue, and did not pay attention to the effects of the revolution that permeated the youth."
Habib denied that he resigned because he was not chosen as the successor to former Supreme Guide Mahdi Akef. He said he had submitted his resignation twice while Akef was still in office.
"The Brotherhood came out of darkness to the bright light, which caused great confusion for a while, but I think it persisted longer than it should," he said.
He added: "I tried to advise and guide them but no ears were ready to listen to me."