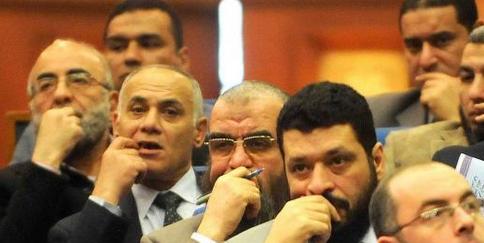 Several revolutionary forces have called for demonstrations on Friday and Saturday against the formation of a constituent assembly they fear will be primarily composed of Islamists.
State-run newspaper Al-Ahram reported on its website Thursday that the Alliance of Egyptian Revolutionaries called for a protest before the High Court of Justice and marches on Saturday to the Cairo International Conference Center located in Nasr City, where the People's Assembly and Shura Council plan to select the constituent assembly's members.
The alliance demanded Parliament step back from its decision to seize half of the assembly's membership.
The Parliament's method of selecting assembly members "violates the simple rules of logic and justice," said Amer al-Wakil, the alliance spokesperson. "It doesn't conform to promises and statements made by the Muslim Brotherhood's Supreme Guide and Freedom and Justice Party officials, who have always assured that the constituent assembly will consider all segments of the society and will not be controlled by any faction."
The alliance demanded that Parliament lower the number of MPs to be represented in the constituent assembly to 20 percent, so as to allow higher representation from other political and societal forces.
The privately owned Al-Shorouk daily reported on its website that some youth movements will protest before Parliament while the joint session in Nasr City is being held.
The newspaper quoted Tarek al-Kholy, a member of the 25 January Revolution Youth Coalition's executive bureau, as saying that the protest will denounce Parliament's decision to have MPs make up 50 percent of the assembly.
Kholy demanded that all Egyptian political forces — Islamist, leftist or liberal — be equally represented in the assembly, without allowing those in the parliamentary majority a higher rate of representation.
He described Islamist forces' alleged attempt to control the assembly as a "mockery."