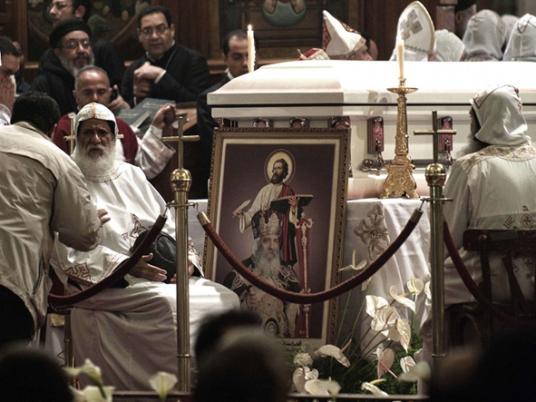 Members of the Holy Synod of the Coptic Orthodox Church have unanimously proposed Bishop Pachomius to serve as the church's acting patriarch until a new pope is elected.
At a meeting Thursday, the Holy Synod also agreed to submit Pachomius' name to the ruling military council, so it can issue an official decree naming him to run church affairs and supervise the papal election.
Pachomius told Al-Masry Al-Youm on Tuesday that the process of choosing the new pope may take three or more months.
Under the church's bylaws, issued in 1957, the next pope is to be elected by a collection of bishops, former and current Coptic cabinet members and MPs, as well as notable Coptic public figures, and newspaper owners and editors.
Once the vote is completed, a blindfolded child will choose one name from a hat containing the names of the three candidates with the highest number of votes.
According to the bylaws, candidates must be at least 40 years old and have spent at least 15 years in monastic life.