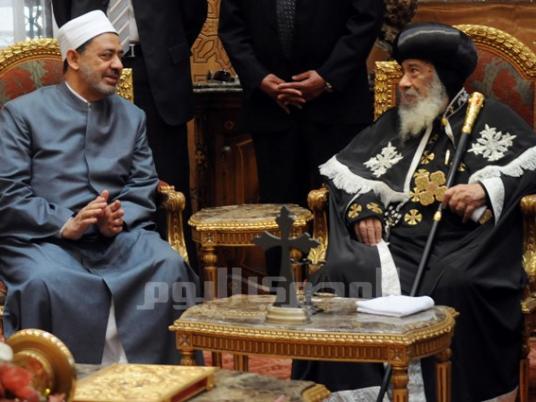 Al-Azhar Grand Sheikh Ahmed al-Tayyeb and Mohamed Badie, supreme guide of the Muslim Brotherhood, on Wednesday visited the Coptic Orthodox Cathedral to offer their condolences for the death of Pope Shenouda III, pope of Alexandria and patriarch of the Saint Mark See.
Tayyeb told church leaders that the pope was a close friend and a great pontiff who was always keen on the preservation of the Egyptian national fabric.
"His death is a tragedy," he said. "He left the country in extremely sensitive conditions."
Tayyeb had dispatched four representatives to the pope's funeral: former Religious Endowments Minister Hamdy Zaqzouq, Al-Azhar adviser Mahmoud Azab, Islamic Research Academy Secretary General Ali Abdel Baky, and Mohamed Gemeia, secretary general of the sheikh's technical office.
"The pope planted a tree of love that drank from the water of the Nile," said Badie.
Many presidential candidates also came to offer their condolences, including Hesham al-Bastawisi, Mamdouh Qutb and Mohamed Selim al-Awa, who praised the pope for his stance on national unity.
"Such a grand funeral has not been seen in a long time," former Deputy Prime Minister Yehia al-Gamal said.