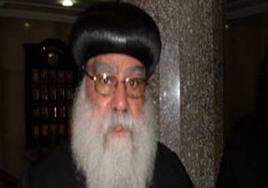 Abba Pachomius, surrogate of the Pope, during his word of condolence said that the late Pope has led a renewal movement of the church without having it deviated. He spread sound Orthodox teachings as well as many ecumenical Institutes.
He led the consecration movement in the Coptic Church and many young people all over the world have learnt from him. He was a man of prayers, education and pastoral care. We can't forget what he has done in the history of the Coptic church and the other churches, said the Pope surrogate
We can't describe our beloved father who has been likened to Moses, Nehemiah, Joshua, Paul the Apostle and John the Baptist. He was a leader of national unity, and united many churches that we see various churches participating in this ceremony, thanks to his wisdom.
Christians and Muslims loved him because of his wise leadership. Many young people has disciplined on his hands to be servants of the bible and spread it everywhere. We bid him farewell in the hope of the resurrection, said Abba Pachomius.
Abba Bishoy, secretary of the Holy Synod, thanked all the Egyptians as well as the attendees, pointing out that Egypt declared the public mourn for the departure of the Pope.