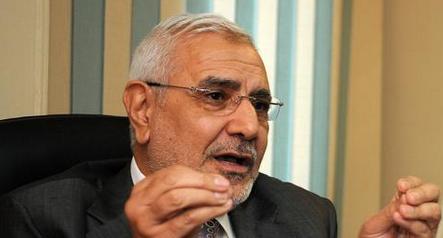 Egyptian presidential hopeful Abdel Moneim Abouel Fotouh has stressed that Egypt will be on an equal footing with other world countries, saying that relations with those countries will be governed by mutual interests that preserve Egypt's sovereignty.
On the sideline of a meeting with a delegation from the French senate's budget committee late Monday, Abouel Fotouh said Egypt is not seeking war with any party, but will not allow any infringement on Egyptians' dignity.
A statement by Abouel Fotouh's electoral campaign on Tuesday quoted the presidential candidate as saying that Egypt is looking forward to more economic and political cooperation with all states not based on a dependent relationship.
Democracy and freedom will be our road to economic development, he said during the meeting.
"In seeking this development, we encourage a free economy that involves local and foreign investments in a way that preserves social justice in Egypt, where 40 percent of the population is under the poverty line," Abouel Fotouh said.
Abouel Fotouh's meeting with the French delegation was preceded by other meetings with Finnish Ambassador to Cairo Roberto Tenzy and Danish Ambassador to Cairo Christiane Hoppe, in which he discussed the situation in Egypt and his electoral platform.
Abouel Fotouh, a former Muslim Brotherhood leader, was expelled from the group in 2011 when he defied an organizational decision to not field a presidential candidate. The Brotherhood has reportedly been warning its young members not to express support for the campaign to avoid an internal rift.
Abouel Fotouh started to gain more popularity after suffering an assault by masked attackers on his way back to Cairo from Monufiya in late February. The incident was widely criticized by Egyptian politicians.