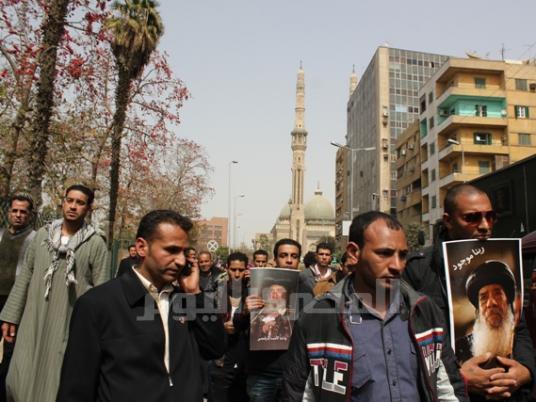 Mina Rizq Saad, 21, was slowly making his way out of the cathedral complex just after one o'clock this afternoon. His eye lashes were wet and eyes bloodshot from the tears he had shed upon seeing Pope Shenouda's coffin leave the church in a white vehicle to his final resting place.
"It's a feeling of sadness you can't imagine. The earth should feel sad, and the sky should feel joy," said the young man, who had travelled from Beni Suef governorate that morning to attend the mass prayer at St. Mark's Coptic Orthodox Cathedral in Cairo.
It was the third and final day in which Copts could say goodbye to the Pope's body before its burial in Wadi al-Natrun, in the Nile Delta, later in the afternoon.
A stampede broke out when the white coffin was brought out of the church at around one o'clock and down the stairs into the van that would take it away. Onlookers, who had stood patiently by for hours under harsh sunlight, lunged forward to get a final glimpse of the 89-year-old pope, even as he lay in a wooden case. They waved their hands, said goodbye and cried.
"The most precious thing to us has gone," said another tearful 21-year-old woman from Cairo, who declined to give her name. She had hoped to see the pope's body as it sat on the Papal throne for the previous two days, but was unable to get into the church as it was so full of people.
Most seats inside the church today were reserved for invited guests, including army generals, interior ministry officials, members of parliament, presidential candidates, ambassadors, clergymen and women, as well as other public officials and personas. Field Marshal Hussein Tantawi, head of the Supreme Council of the Armed Forces, which runs the country, was notable in his absence.
After the service, some seemed happy to talk, while others were too stricken with sadness. Naguib Sawiris, a Coptic business tycoon, hurried out of the church tearfully. Hamdeen Sabbahi, the presidential candidate, looked less stricken by grief but said: "His death is a very sad occasion; he was a symbol of unity for all Egyptians."
The UAE ambassador was present with four of his aides; he declined to comment. Dressed in the Gulf's traditional black and white robes, they took photos standing outside the church.
British ambassador James Watt praised the service, which he said was held in Arabic, Aramaic, Coptic and some English.
Liberal MP Amr Hamzawy, dressed in a slick black suit and constantly being approached by ordinary men and women full of praise, said he was "pleased to see a mixture of Muslims and Christians in the service. I hope the next pope will be as great an Egyptian as Pope Shenouda was."
Speaking to Copts throughout the day, a common refrain was that the pope had played a unifying role among Christians and Muslims and that he gave them a sense of assurance and feeling of safety. Christians, who number between 8 and 10 million, are a minority in Egypt and have been discriminated against over the years.
Attacks on churches have been on the rise, including the bombing of the Two Saints Cathedral in Alexandria on 31 January 2010.
Meanwhile, Islamists have become a dominant political force. Salafis, who practice a literal interpretation of Islam and make up nearly 25 percent of the Parliament, refused to commemorate the Pope's death with a one-minute silence in Parliament.
It is not only fundamental Islamists who have played a role in fuelling sectarian tensions; the army has instigated it as well. In early October, a peaceful Coptic march turned violent when the army accused Copts of attacking their tanks and used state television to call on "honorable citizens" to come to the army's aide. 27 people died, most Copts.
Green-uniformed military police officers and their red berets lined the staircase leading to the church. They outnumbered the handful of black-robed bishops that lingered around. Other military officers wore anti-riot gear: red helmets, black bulletproof vests and clear shields. They formed a cordon to control the crowd as dignitaries walked passed. Men in black suits and caps stood around also, walkie-talkies in hand, controlling security.
When the service was over and the coffin had gone, most of the thousands who had attended the mass slowly made their way home. About a hundred people joined a march, chanting that the pope's memory will live on. Coptic chanters also walked past a wall lined with posters of smiling Salafi presidential candidate Hazem Abu Ismail, hinting at a future of uncertain relations between Copts and Egypt's ascendant Islamists.
It remains to be seen who Egypt's next Coptic pope will be, and what role he will play in serving the community. Whoever he is, he has big shoes to fill and a large task at hand in dealing with the myriad issues facing Copts, which also includes a rebellious and politically active youth movement.
Many though seemed assured, at least today, by their spirituality. "It is in God's hands now," said Nevine Riyad, a 30 year-old accountant from Ain Shams in Cairo.
"I am not afraid of anything in the future, because God is with us," said the 21-year-old woman who declined to be named.