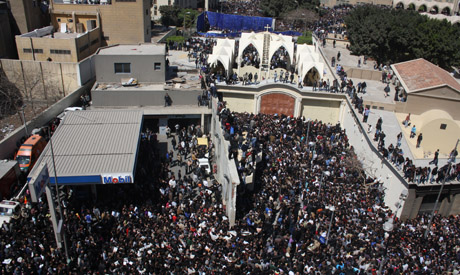 Thousands of mourning Coptic Orthodox Christians gathered Saturday evening at Abbassiya Cathedral in Cairo.
Groups of hundreds of new comers steadily streamed towards the Orthodox cathedral from all directions, as the night progressed.
Women dressed in black, young men on motorcycles, families crowded in automobiles or coming out of the nearby underground metro station and senior citizens leaning on canes or supported by grandchildren poured into the church's grounds, hoping to be in the proximity of the body of Pope Shenouda III, who had been pronounced dead at 5pm earlier in the afternoon.
The crowds that swarmed in and around the church, causing a massive traffic jam on all surrounding streets.
At the main entrance to the church on Ramses street TV stations interviewed mourners carrying the picture of the patriarch. Police officers rearranged positions for metal barriers that were used to slow down – not to stop – the influx of people determined to bid the Pope Farewell dozens of times, but to no avail.
Some Muslim drivers who did not listen to the news on the radio all day discovered for the first time, as they drove slowly by, that the pope had passed away.
Despite all signs of apparent chaos that engulfed the church grounds, the mood was subdued, and a air of serenity strongly competed with the cold winds that kept other Egyptians in doors on this weekend evening.
Hundreds of blood-shot eyes revealed that millions of Coptic Christians had clearly poured their hearts out in tears after hearing the sad news.
Ramon, a 20-year-old trade school student, who sells shoes to pay for his education, stood quietly and pensively along with hundreds of young people on the sidewalk across from the entrance. The way into the cathedral was shut by the swelling crowds.
"I did not want to believe that he died. I asked two or three people, hoping they would say it was rumour. But, it was not.
"I thought he was still in the United States, receiving treatment and that he would come back soon and get well again. But, I also realise that he is human, and that God has chosen this moment to lift him up to the sky so he can be close to Jesus," Ramon stated.
In fact, millions of Copts had a good reason to believe that the pope, despite progressively deteriorating health in recent years, would stand by them for some time to come.
After all, the 88-year-old had survived more than a dozen medical trips to the US in the last decade. He had always come back to his community, who adored his regular Sunday mass and desperately filled the church every Wednesday night to share with him their stories of pain at his weekly public forums.
"He was a symbol for love and peace," Sherif, a small-business entrepreneur told Ahram Online.
"We have lots of great bishops, but none of them can really fill the shoes of our pope," stated a middle-aged man, who planted himself near the main doors.
"Guys, my uncle who lives in the Netherlands just called me. He is devastated. He adored the pope," a teenager lamented loudly, standing next to schoolmates, who eagerly checked internet updates on their mobiles in search of the latest reactions to the patriarch's death.
Those who could not enter the church through the main gate circled the building to attempt a rush on the doors through a side entrance.
There, crowd of hundreds of young men raised their hands in the air to show the crosses tattooed on their right wrists to the two overwhelmed doormen.
"Please, proceed in order and display your tattoos clearly. If you do not have a cross on the wrist, prepare your national identification cards," one of the guards yelled at the crowd that kept edging near.
The rush-attempt on the gate was only interrupted by the arrival of two electricity ministry trucks, carrying emergency power generators to supplement an overwhelmed lighting matrix of the cathedral, which is used to service thousands but not the tens of thousands of expected mourners.
Scores of young men, fearing that the growing size of the crowds would prevent them from seeing the pope, jumped on top of the trucks, hoping to a hitch a ride in with the generators.
Underneath all the love for Shenouda that was displayed on Saturday evening, there was something more profound than simple respect.
In some ways, this was no ordinary wake for a beloved priest.
Many mourners might have come to begin searching for ways to battle growing anxiety over their future in Egypt, as Islamist currents rise to positions of political power following Egypt's popular uprising.
Some might hope to find new mechanisms to construct spiritual solace after the death of the man they believe guided the community through at least 40 years of suffering and injustices.
The reality of those decades of pain could be detected on many grim faces Saturday.
"The people loved the pope because they believe that he successfully saved many Christian lives at a time of rising intolerance in the country through his wise leadership," Nader, an architectural engineer, told Ahram Online.
"He was – as a religious man – averse to getting involved in politics. However, he managed, in a clever way, to relay the fears and needs of Christians to politicians.
"He did this very well because he always had his fingers on the pulse of the Coptic masses," Nader added.
Sherif, the entrepreneur who believed Shenouda represented love and peace, told Ahram Online he harboured mixed feelings towards the future of the country.
"I believe that the Muslim Brotherhood who won the majority in parliament cherish national unity and will do well by Christians.
"But, I am scared of the Salafists, who are ideological and do not believe in equality between people from across different religions," Sherif said.
By midnight, no one seemed to be willing to leave the church or the body of Pope Shenouda.
Even those who were leaving the premises were doing so in order to change their clothes and return to take part in the three-day mourning period for the pope, who is set to be buried on Tuesday.
"They are here from all over Egypt. Many Christians have come from Upper Egypt already. Tomorrow, we expect loads of Egyptians to return from overseas to say goodbye to the patriarch," a mourner told Ahram Online.
But some are not sure where to go now that their spiritual leader is gone.
"On Wednesdays, the pope used to give advice to people on ways to cope with harsh realities and discrimination they faced in their daily lives. When he failed to provide answers to their problems, he comforted them by praying for them and with them," Nader, the engineer, said.
"It is not clear who can do this, or do it as good as the pope did for years," he wondered.